In an era where high-end gaming laptops are a luxury most people can't afford, there are a few companies that have bought those top-notch specs for mid-range laptops. One such name that comes to mind is none other than the Taiwanese tech giant, Acer. Over the years, Acer has manufactured some of the best mid-range laptops available on the market. The company has now decided to bring premium game features to the mid-range price segment. That said, today we are going to review one of the best laptops by the brand, Acer Aspire E5-575G-53VG. In our Acer Aspire E5-575G-53VG review, we will make sure that you can get an unbiased review about the specs, performance, and features of this product. So, without any further delay let's begin.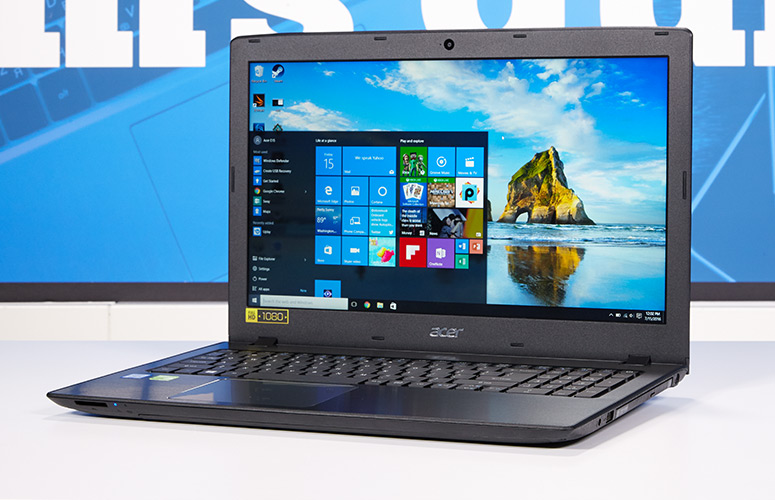 Things to Keep in Mind Before Buying a Laptop
Size and weight
If you are planning to buy a mid-range laptop then you are probably looking for a compact and lightweight laptop. The main objective of these laptops is to make sure that you enjoy the fruits of both gaming and daily usage. As most of us have a 9-5 desk job where most of the work is done on your laptop itself. So, make sure that you put your heart on a laptop which is too big or too heavy. If portability is the major preference for you, then do not buy a laptop with more than 13.3 or 15.6 inches of display.
Display quality
No matter how much your budget is, getting a laptop with a decent screen is everyone's top priority. The best quality display should have at least 1920 x 1080 full HD resolution. However, if you can get anything more than that it's only better. But any display with a lower configuration than that is definitely a red signal. If you are willing to spend a little bit more, you can go for 4K displays too.
Keyboard
Again, no matter if you are using your laptop for gaming or daily stuff, a good keyboard is definitely required to fulfill both the purposes. Moreover, if you get your bread and butter from typing jobs then a comfortable keyboard is a must for you. For gaming purposes, you need to dig much deeper and check various aspects such as actuation or key travel. As during your gaming session, even the slightest error in your keyboard can alter the entire outcome for you.
Acer Aspire E5-575G-53VG Review
Design and Display
Kicking off our Acer Aspire E5-575G-53VG review, let's have a look at the design and display of this laptop. It sports a 15.6 inches HD display with a 1366 x 768 resolution. Although the display only emits 195 nits of brightness, it is quite sufficient for a mid-range laptop.
Coming to the design of the Acer Aspire E5-575G-53VG, it has a shiny and matte back finish which is quite sturdy and improves the durability of the device. At first sight, the device might not get a lot of attraction but the device is certainly quite strong and can last for years. However, due to the fact that the entire body is made of plastic, any elegant patterns on the laptop are missing.
Performance and GPU
As far as the processor is considered, the Acer Aspire E5-575G-53VG is powered by an Intel Core i5-7200U 2.5 GHz Dual-core Processor which is quite good considering the price tag of the laptop. The processor is paired with an 8GB of DDR4 RAM along with a 256 GB SSD for internal storage. The CPU can handle multiple tasks at the same time such as streaming, surfing, and several other things.
Speaking of the OS, the Acer Aspire E5-575G-53VG runs on Windows 10 Home which is preloaded on the laptop. Furthermore, the 2G NVIDIA GeForce 940 MX is arguably the best feature of the laptop. As a strong dedicated graphic card, it will aid you in playing most of the games at smooth graphics. It is safe to say that the graphic card increases the value of this product and makes it stand out among other laptops at this price range.
Additional Features
The Acer Aspire E5-575G-53VG features a 2800 mAh battery which is just outstanding in this price range. You can easily expect 8-9 hours of battery back with normal use throughout the day. If there is a place where the Acer Aspire E5-575G-53VG lags behind it is in the sound department. You will probably need a good set of headphones to enjoy games or even streaming TV shows and movies.
Talking about the ports of the Acer Aspire E5-575G-53VG, you will have three regular USB ports, one USB Type-C connector, an HDMI port, and an Ethernet port. There is also an SD card reader at the front and you will also get a 3.5 mm headphone jack on the laptop too.
Frequently Asked Questions
Is Acer Aspire Good?
As we have mentioned earlier in our Acer Aspire E5-575G-53VG review, this laptop is one of the best laptops out there. And, the other laptops in the aspire series are no different. If you want a laptop that can be used for both gaming and professional use at a budget-friendly price tag then the aspire series is for you.
What is the best Acer Aspire laptop?
Although all the laptops in the Acer Aspire series are incredible and stylish, the Acer Aspire E5-575G-53VG is unarguably the best of the lot.
Why are Acer Laptops so cheap?
Whenever we see a laptop that has a low price tag, one thing always comes to mind, "Has the company cut some corners to cut the price?" Well, in the case of Acer laptops, that is not true at all. Acer has always tried to deliver the customers the best products at a cheaper cost. Related: ASUS ROG GL551JW-WH71(WX) Review
Do Acer laptops last long?
Yes, Acer laptops are made of good quality material which boosts the durability of the laptop. Moreover, the company can only do so much, taking care of the laptop takes a good chunk of effort from your side too.
Final Verdict – Is Acer Aspire E5-575G-53VG Worth Buying?
Yes, this Acer laptop is quite worthy of your hard-earned money. So, that was our Acer Aspire E5-575G-53VG review, we hope now you know everything about this product. If you are planning to buy a new laptop in the near future make sure to keep this product in mind.