Subwoofers are built for very specific tasks. These enhance your audio system's bass and handle low frequency sounds really well. A subwoofer lets you feel the sound and not just hear it! Music like hip hop, EDM, etc sounds much better with a subwoofer. Car owners seek the best 8-inch subwoofers that can fit in their car and boost the audio system's bass!
Now, you may want to replace a blown speaker or build a new sound system in your car. An 8 inch subwoofer is quite essential to get the desired results in a limited space. What kind of features should you expect in the best 8-inch subwoofers for your car? Let's find out.
Factors to Consider when Buying 8-Inch Subwoofer
Power
Well, power is usually the first thing a buyer starts to look for. It makes total sense that you should look for this value in a subwoofer's specs. However, there are two kinds of powers to keep an eye on.
RMS Power
RMS power refers to the amount of power a subwoofer can handle. This is the value that really matters in a subwoofer. If you need a powerful subwoofer, look for the RMS power in the specs.
Also, make sure that this value matches the amplifiers. The amp should be able to pump out 75 to 150 percent of the subwoofer's rating. The RMS power is what gives you the boom.
Peak Power
This is another aspect of power in a subwoofer. But this quantity is not much important as it only affects the performance to a limited extent. The peak power represents the maximum voltage that can be handled in short bursts for a limited amount of time.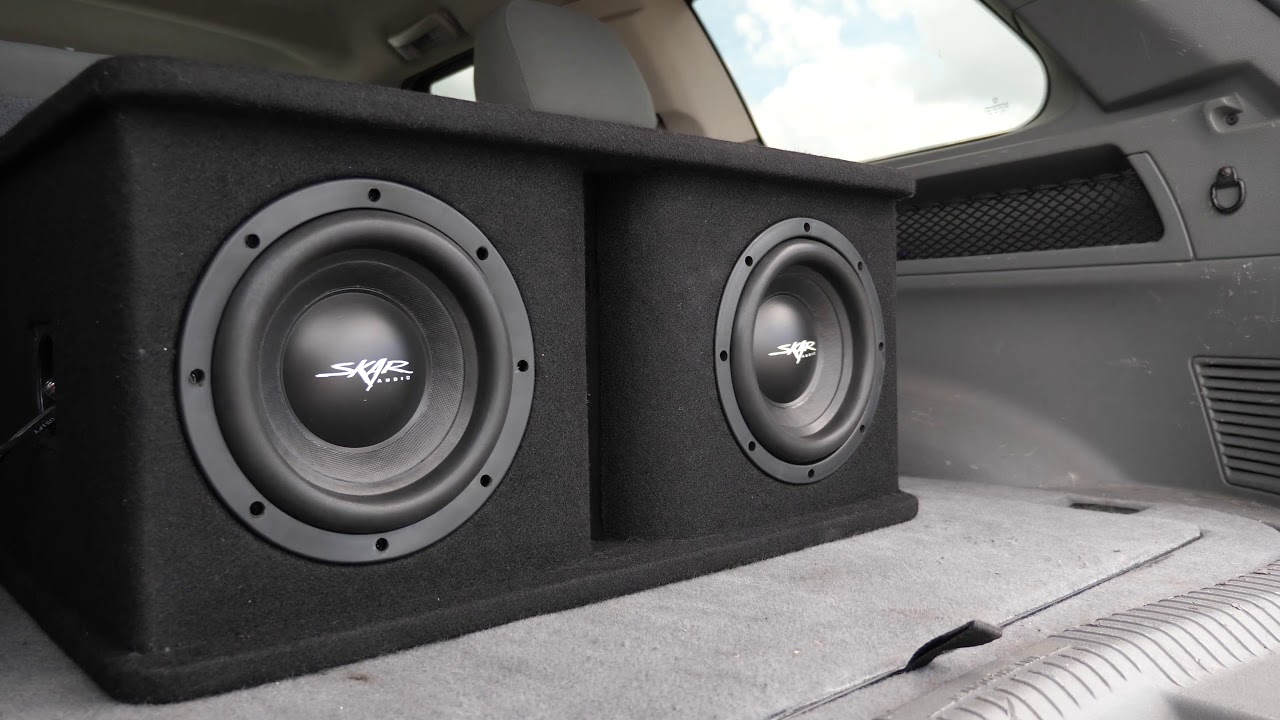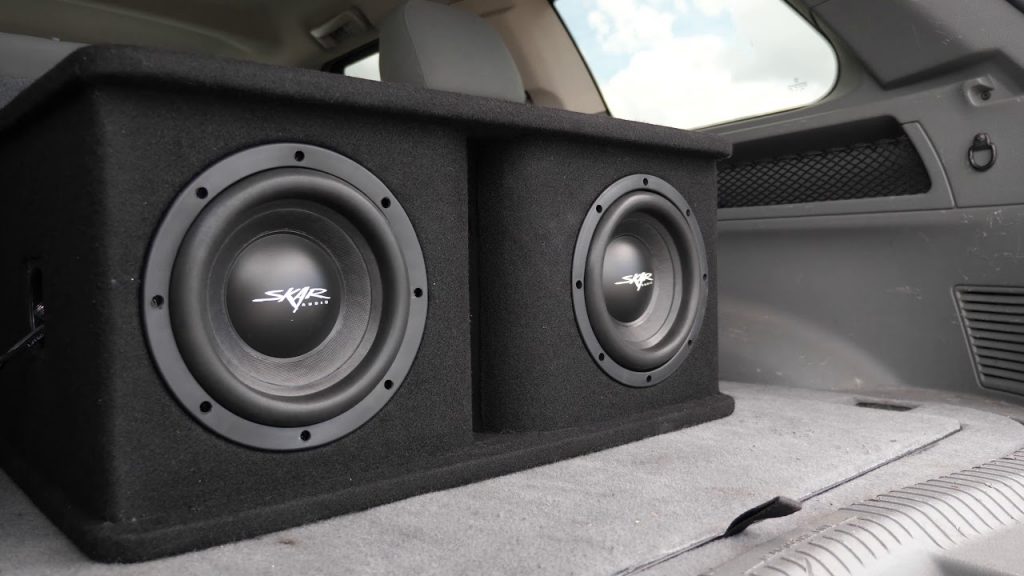 Sensitivity
This is another value that determines the sound quality and performance of a subwoofer. The more sensitive a subwoofer is, the more efficiently it will convert power into output volume. Power without enough sensitivity would not produce the desired results in a subwoofer.
Number of voice coils
Going for a dual voice coil speaker has a few advantages over a standard speaker. These offer more control of impedance, offer more wiring options to take advantage of the amplifier. However, there is no direct advantage of a dual voice coil over a single voice coil.
Best 8-inch Subwoofer in 2021 Review
Skar Audio VVX-8v3 D4
You can go with this subwoofer for a clear and accurate bass with an RMS power rating of 400 watts. The Skar VVX-8v3 D4 features a competition-grade pressed paper cone along with a high roll foam surround that results in smooth bass and balanced sound.
These are small enough to save trunk space but still produce impressive sounds when it comes to fast punchy techno beats, double bass rock, heavy metal, rap, and other similar music. These are powerful enough for 8" and handle the power pretty well. These have big magnets and nice wiring terminals.
These could be an excellent addition to your stereo system and are often preferred over the 12" inch ones if the size feels ideal for your car. The material used in these subwoofers enables a ground-shaking bass but also keeps the speaker durable.
It's unbelievable how hard this sub hits. The sound quality is really insane for the pricing. These subs are well built and have a 250 watts amp hooked up.
Rockville RockGhost
It is another powerful 8 inch car subwoofer that produces quality sound. If you need a sub that doesn't rattle the windows or shake the ground but has a solid bass and clear sound, you can go for it.
This is designed to be mounted in your spare tire and remain concealed. It literally takes no additional trunk space at all. So, this can be suitable for your car stereo system if you don't need the sound loud enough to blow your hairs but require quality music. It produces some of the cleanest and consistent lows.
The bass on this sub is really deep and the Adjustable Input Sensitivity lets you tune it until you get smooth output. Also, these are very easy to set up. An RCA splitter can be used to hook up two of these subs. This isn't the most powerful 8 inch sub but it has the right combination of gain, bass boost, and crossover. The net result is the great sound quality that doesn't hurt your ears.
Rockford Fosgate P3SD2-8
For our next subwoofer, we wanted to show you a sub that's made of quality material, will fit in any car easily, and can deliver a punch and big bass in a tight space. Rockford Fosgate turns out to be one of the best 8-inch subwoofers that could do just that.
The performance part is where it really stands out from the other 8 inch subwoofers. Though some buyers worry that the 150-watt RMS and 300 watts peak power may feel inadequate, the actual experience is quite the contrary.
The dual 2-ohm voice coils make wiring quite flexible and allow you to hook it up to a low-impedance amplifier. In addition, the spider venting basket dissipates heat efficiently which means you can play music at max-volume for hours without overheating the subs.
The distortion-free noise and the deep bass that these offer are rarely available at such a budget friendly price.
Pyle Car Subwoofer PLPW8D
Pyle Power Subwoofer has a reputation regarding quality and durability. It's really a badass in a small frame. This power-packed compact subwoofer can handle a lot of power and would easily fit in most cars.
Since durability is an essential aspect of these subs, the specially treated foam surround, non-pressed paper cone, and black steel basket ensures non-fatiguing to keep it safe during prolonged use at high volumes.
The built-in 4 oz. magnet makes the performance level unmatched by other subs in this price range or even higher. The sensitivity of 89 dB is responsible for the perfect clarity. So, how does this compact 8 inch sub produce deep bass and great sound quality?
The 800 watt peak power and 400 watt RMS power is responsible for the intense and super loud bass! This is an incredibly powerful subwoofer for its size. Also, the spring-loaded pushdown speaker terminals help maximize the sound quality
Planet Audio AC8D
This one is a pretty powerful subwoofer with 600 watt RMS. It really hits hard given its price range and is ideal for a hatchback. It has a very high user-rating because it offers good bass and high sound quality despite its compact size. It is designed to give you more bangs for your buck using poly injection cone material and a customizable trim ring.
If you aren't easily pleased until the subwoofers cause everything to shake around you, this could do the trick for you without having to spend a lot.
Frequently Asked Questions
Which is better between 2 ohm or 4-ohm subs?
Ohms refer to the impedance in subwoofers. Though there isn't much difference between the two options at the same wattage, the 4 ohm is usually preferred due to its low cost and softer sound. But in the end, it all boils down to what your amplifier can handle.
Is the spider venting basket important in a subwoofer?
It helps protect your subs when playing loud music for a very long time. It helps dissipate heat to prevent overheating. This makes a subwoofer durable.
What value determines how powerful the bass would be?
The RMS power tells you how much power your sub can handle. A low RMS value would limit your ability to run it at higher power and would risk blowing it up. If you need to play your music loud, you should go with a high value of RMS power.
What should be the best 8-inch subwoofer for my car?
You should look for one with high enough RMS power, durable material, and size that is suitable for the available space in your car. You can even go with hidden subwoofers that can be mounted on your spare tire. Read more: Best Car Speakers for Bass and Sound Quality
Is an 8 inch subwoofer enough?
These subwoofers have extremely tight and accurate bass. If set up correctly, this will feel more than adequate to produce incredible music with loud and clear bass.
Conclusion
The best 8-inch subwoofers should be enough to produce extra bass and work well with all kinds of frequencies. A music lover with limited space in the car should find these subwoofers ideal for his needs.
We have listed some of the best 8-inch subwoofers that produce high-quality sounds without distortion and can handle plenty of power for their size. These are also very compact and would easily fit in the rear of your car. Power, sensitivity, and number of coils, all of these are considered along with after-sales service and customer review while listing these subs.