With flight booking apps, you can rest assured that you won't miss those special discount deals on domestic or international flights. Another benefit of these apps is you don't need to scroll through your emails to find tickets in a hurry. An app keeps things simple and is easier to access while travelling. We have selected some of the best apps for booking flights so you don't have to do the hard work.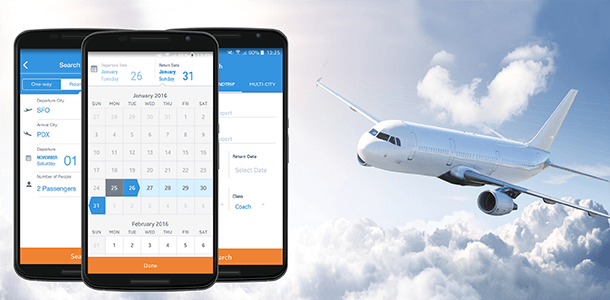 List of Top All-Platform Apps
An app that is easier to navigate, offers top deals on flights, and is reliable, is what we call the best. Let's help you find the best app for flight deals.
It features an extremely reliable search tool that is easy to use and is effective in finding the best deals for any location, on multiple external sites. It lets you filter searches by flight duration, stopovers, timing, and the airlines.
It has some unique options that make it a popular choice among the travelers such as it's 'everywhere' function to search for all destinations that you may visit from a given location. You can use it when you are planning a vacation but unsure where to go. It also offers to show the cheapest flight options for over a whole month. No doubt, it's one of the best apps for booking flights.
Skyscanner is a great app for booking personal flights, but it also works great for booking business flights as well. Contrary to popular belief, business flights are oftentimes quite luxurious. The perks and amenities can vary depending on the airline and length of your flight but for the most part, you can pretty much assume that the food, ambience, and seating is much better in business class. Moreover, since a business flight is considered essential to your job, you can usually factor it in as a deduction when you file taxes. There are a number of free tax tools that can simplify this process. So take a seat, enjoy some delicious food, and enjoy your flight.
Kiwi is regarded by a high number of users as the best app for flight deals. It's compatible with both android and apple devices and it searches prices for more than 700 airlines to find the lowest-priced itinerary. It also provides the option to search for all deals from any airport you choose. Kiwi brings you the cheapest options by searching each leg of the journey individually. Kiwi guarantee protects you from any delays, cancellations, and even schedule changes.
This app is quite efficient for searching flights as well as hotels and is extremely user-friendly. Its best category displays flight options with a combination of good prices and convenient timings. The app has a cool interactive map that displays flight prices from the selected location to various destinations. It's really fast and also among the best apps for cheap flights.
Top Three Apps for iPhone
It is another feature-packed app that is designed to make travel-planning extremely easy and convenient. It's a reliable app for hotels, flights, and car rentals. It keeps track of price changes, let's you share deals with friends and family, and also provides a payment fee calculator within the app. It's easy to sign-in with social login options and is completely free to use.
Hopper mainly features the major airlines around the world like Lufthansa, Hawaiian Airlines, Air France, American Airlines, JetBlue, British Airways, Frontier, Air Canada, Alaska Airlines, etc. Its key feature is the high accuracy in predicting flight prices 1 year in advance. It will intimate you when it's the best time to book a flight for the cheapest price. It will also tell you when to wait some more for a better price on the flight. You can also receive personalized recommendations on deals for you.
It is an intelligent, AI-based travel app that besides offering discounted rates on flights also helps you manage your various online bookings. It's a complete travel app for iPhone users that lets you book flights and hotel accommodation and receives discount alerts whenever the prices go down for a chosen flight. Explore flight option on the app helps you find a suitable location in your budget. You can also track your flight on Ixigo.
With Ixigo assured, you get free cancellation feature with no questions asked. Its auto web Check-in also saves you time. Its flight fare prediction is also very accurate and convenient in planning your trips ahead of time.
Top Three Apps for Android
Tripadvisor is an excellent app on android for both hotel and flight search. It has relevant features to help search for cheap flights based on your set time and date. Its simple UI makes it easy to navigate the app and saves time. With trip advisor app you can also view the nearby attractions, hotels, restaurants, and things to do.
It offers some unique filters keeping in mind the comfort of a flyer. Besides all the usual filters like price, time, etc it has a new feature called 'agony' which lets you see flights with minimum duration and fewer stops. Using both filters 'cheapest' and 'agony' you can find flights that are reasonably priced and are not tiresome due to long durations and multiple stops. The app is user-friendly and free on Google Play Store. It's one of the best apps for booking flights for an Android phone.
Android users looking for cheap air tickets should try this app for impressive rates. Awesome flight deals are just fingertips away with this amazing android app that can save you a lot of time. It offers a highly customized flight searching experience. From the flight schedule, destination, and price, you can even apply filters for seat and meal preferences. An upside of this app is that it will email you the pre-booked itinerary that you can finalize at a later time.
Conclusion
We have compiled a list of some of the hottest and most useful apps for iOS, Android, and web users. You may want to pick one based on your personal travel habits, and of course, your mobile device. Price notifications, cheapest month filters, and price predictions can help you save a lot of money, especially if you are a frequent traveler.
These apps also help tourists keep all of their travel details, booking tickets, etc in one place. Look for the key benefits in each app and choose one that offers the most relevant benefits to you personally. Tourists may love the option to check prices for all the travel destinations from their local airports. The feature to find flights with fewer stops and shortest duration can help those who suffer from back problems or other health issues. Life for travelers has become impossibly easier with these latest flight booking apps. Don't miss out these amazing new features and the best deals on flights!