Podcasts have been popular for so long and there are tons of amazing podcasts out there that discuss topics like culture, politics, pop culture, history, technology, you name it. Podcasts can make your everyday life a lot better. They can entertain you or enlighten you and you can definitely learn a lot from listening to podcasts. There are, of course, a lot of podcast apps and it can definitely be hard to choose the best podcast app. To help you out we've tried and reviewed many apps and chose the top apps for podcasts for you. So here's the list.
Top Apps for Podcasts for Android and iPhone:
This is probably the best Android podcast app that works amazingly. This is especially great if you own a Google Home speaker, as the app has an option to switch the podcast from your device to your smart speaker. The app offers different features like adding a podcast to the app from your Google search, you can integrate Google Assistant in the app and even adjust the speed of the podcast. Other than that it has an amazing design and features all popular podcasts and so many more. On top of everything, the app is completely free, but it's only available for Android. Read more: Best Radio Apps for Android Audience
Yes, Spotify, probably the best music streaming site out there. Well, guess what, you can stream podcasts over there too. Not only you can stream audio, but they also have the option for streaming video podcasts as well. In Spotify fashion, the podcasts are organized in neat categories for example Comedy, Storytellers, etc. The app, available for iOS and Android, offers the standard options of subscribing, downloading and sharing the media. The extra feature here is that it's a music streaming app and a podcast app all in one. So if you're already using Spotify for music and are interested in podcasts it's definitely up there with the top apps for podcasts.
The app has an amazing interface and the functionality is great. The podcasts are shown as tiles, which you tap and choose an episode to play. There is a download option that makes it possible for you to save episodes for offline listening, and you can create playlists with your downloaded content. Pocket Casts includes video podcasts as well. A great feature is that it has auto download for your subscriptions and auto clean up after a while, so you can manage your storage space. There are some nice playback options like neat timestamps and a sleep timer.  It works for both Android and iOS and it costs $3.99.
Overcast has a great, clean design and powerful features that make it the best iOS podcast app. You can download episodes and save them for offline listening, but if you like to save space on your device, you can just stream the episodes on the app. The audio features of the app are what make it one of the top apps for podcasts. It includes features like Voice Boost which raises the quiet voices and lowers the loud ones. Another incredible option is Smart Speed that detects silent moments or gaps and automatically cuts them from the episode. This app is incredible and it's only available for iOS.
Stitcher is an app available for iOS and Android that gives you the option of "stitching" your favorite podcasts or podcast episodes in a playlist. This will give you access to the latest episodes without having to download them. If you'd like to listen to your podcasts offline, there is a download option. You'll get a notification when a new episode is available. The app will also give you recommendations for podcasts based on your subscriptions and listening history. All in all, it's an amazing app for podcasts that you should definitely try out.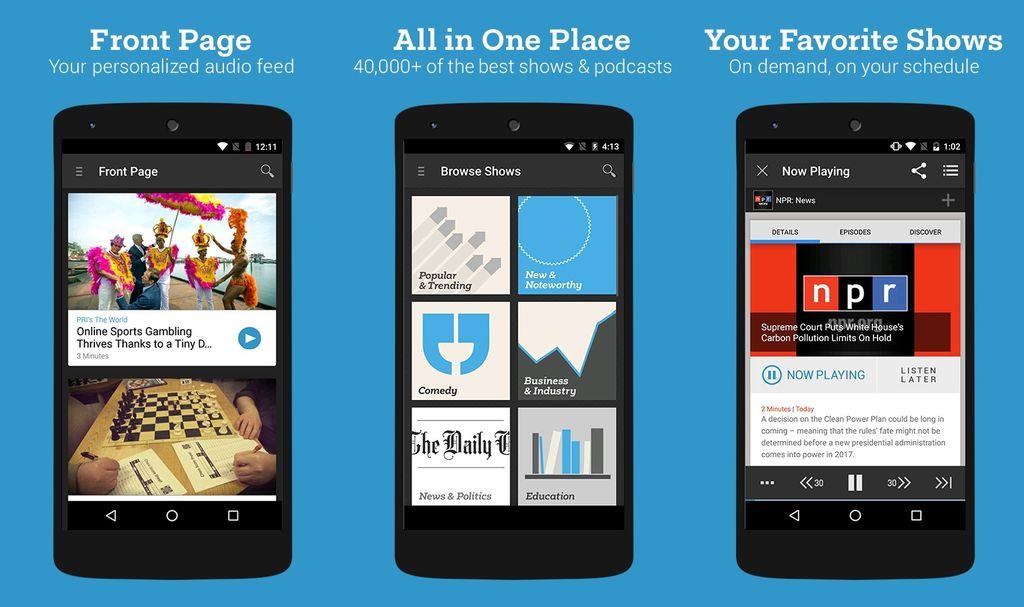 There you have it, five of the top apps for podcasts that will enrich your listening experience and make it even more enjoyable or convenient. We recommend you try them out and pick your favorite.