Cameras are an integral part of a photographer's life. Most people who are fond of photography are prone to using cameras every day, making the camera an essential part of their daily activity. Cameras are available in all sizes and shapes, and no one is comparatively better. 
The suitability of a camera will be dependent on your personal choice and needs. So, how do you decide which one is the best camera for selfies among so many other ones? How do you know what to look for in a camera? To help you with this, we have listed a few points to give you the information you might need. Let's check it out!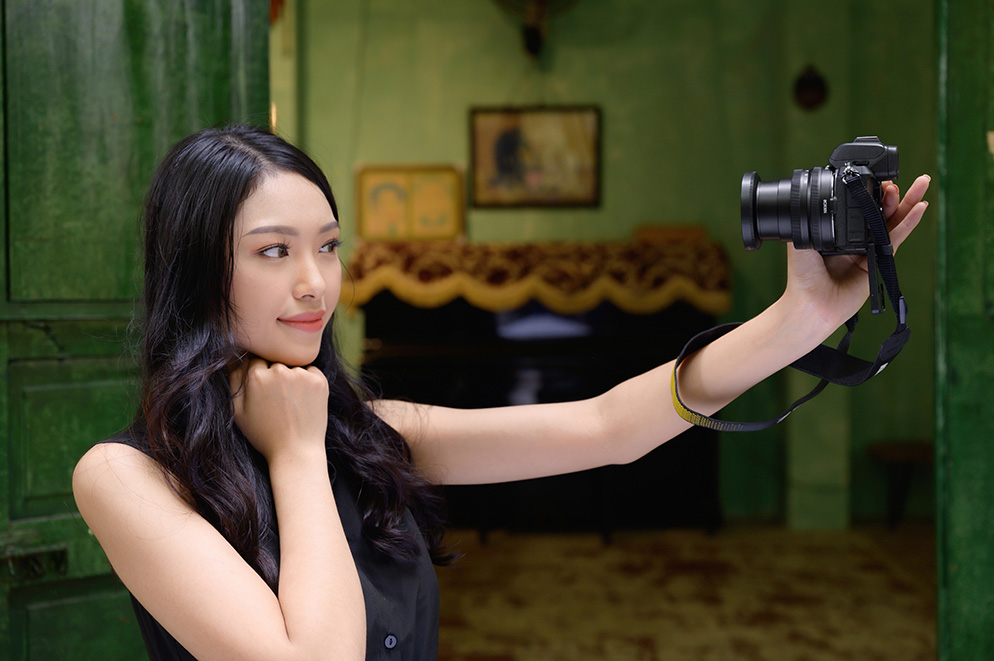 Factors to Consider While Buying a Selfie Camera
Wi-Fi
 A digital camera with Wi-Fi is of great use these days and it is also a must-have feature in a modern digital camera. If you want to be able to share your images directly to social media without connecting the camera to the computer first, then your camera has to have Wi-Fi in it.
The main benefit of a Wi-Fi camera is that you can easily upload files wirelessly just at the touch of a button. Another advantage of Wi-Fi in the camera is that the photos can be uploaded and saved anywhere and at any time.
Selfie camera or tilting screen 
A study says that more than 140 million posts are made every day, out of which 85% of images are selfies. If you want to take a qualitative and professional selfie, then you should have a digital camera with a tilting screen for taking good selfies. The tilting screen of a camera plays an important role if you are planning to buy a camera for selfies as well. 
The LCD screen that can be tilted around can also take images from different angles with great ease. The cameras that put you in the picture are the best selfie cameras. Some digital cameras have a screen that slides or flips round to the front so that you get your social media face ready and get the backdrop right for the feed. Hence, if you are a selfie addict, then you should consider the best digital selfie camera.
Ergonomics
While considering a camera, the ergonomics of a camera are an understated element. You should always try the camera before you buy it. Make sure that the camera you are planning to buy fits comfortably in your hands, and also look to it that it is not overweight. The digital camera should also have easy and quick access to the commonly used functions.
5 Best Camera for Selfies
Olympus PEN E-PL8
If you just got into the hobby of photography, a lower-priced camera like the Olympus PEN E-PL8 Black Body is a good option. The Olympus E-PL8 is one of the best compact cameras for selfies and vlogging. The developers of Olympus have done a good job by creating a camera that is just the right choice for people who are style-conscious. The Olympus E-PL8 is considered to be one of the best cameras for selfies.
The Olympus E-PL8 comes with 16 megapixels, 4 thirds sensors packed in an updated body, giving you a high-speed 8.5fps sequential shooting, which also has a sleek and approachable camera for novice photographers. The camera has been updated with clever linings and details while keeping the controls very easy to access.
The in-body camera makes it easier to get sharp images and videos. It can offer both JPEG and RAW in-camera processing. The 3'' touchscreen in addition to providing an intuitive way to select the focus, also flips to a 180 degree for the best-in-class selfies. The Olympus E-PL8 also has built-in Wi-Fi for wireless uploading and sharing.
Canon PowerShot [G7 X Mark II]
The Canon Powershot digital camera is a good mid-range option. It comes with a 24-100mm lens, giving you the best quality photographs. It has a 20.1-megapixel lens that makes it very decent for taking the best photos and videos. As for the photos, it does 8fps that makes it very impressive for a compact camera like this, and as far as video is considered, it does 1080p of 24 and 60. 
If you look at the Autofocus (AF) of the Canon Powershot, it has 31 points of autofocus, which means it will catch focus very fast and accurately. It is considered one of the best cameras with autofocus. The 3'' touch screen it has, is super intuitive and easy to use, just like the touchscreen of your smartphone. 
It is easy to learn and understand the features and menus of the Canon Powershot. Not only in the daylight but also in low light the Canon Powershot takes really good photos. It also has built-in Wi-Fi to conveniently post your images and videos to selected social networking and media sites.
Sony DSCHX80/B
The Sony DSCHX80/B is one of the most compact cameras as compared to others. The Sony DSCHX80/B is a smart choice for the people who are into casual photography.  The picture quality of this camera looks stunning due to the Zeiss lens it has with a 5-axis image stabilization. The Sony DSCHX80/B is a Cybershot camera that offers an 18.2-megapixel lens that shoots at 1080p at 80fps and it also has a 30x optical zoom.
It also has a very unique autofocus function in which you can select a focus point with recognition of the subject, like even when the subject is in motion, then the camera will provide a sharp focus on the subject. This will not allow the photo to be blurred, and this can be widely used when taking photos during any sports or while clicking a moving object.
The camera also has a good grip, which helps you shoot while on the go. A very unique feature of this camera is its stability control, which makes it the best camera for selfies.
Canon EOS M100 Camera 
If you are looking for a compact camera that shoots pictures and videos as good as a DSLR, then your search is over. Canon EOS M100 has a body that is made of solid metal. This camera is quite compact and comfortable to hold if we compare it with others. It has a 24.2mega pixel CMOS (APS C) sensor that allows you to click pictures up to 6.1fps with an autofocus lock. The lens it offers is 15-45mm for clicking decent and clear pictures.
The Canon EOS M100 has dual pixel autofocus making it one of the best camera for instagram selfies. The dual pixel autofocus can be used in a photo as well as in a video. The screen of the Canon EOS M100 is very crisp with fantastic viewing angles.
The most impressive thing about the camera is the color reproduction and overall aesthetic of the picture. The low light performance of this is also exceptionally impressive. This camera has a full touch menu system, which makes it very easy to use for smartphones users without much learning.
Pentax K-70 DSLR Camera
The Pentax K-70 Weather-Sealed DSLR Camera has a 24.2-megapixel APS-C MOS that shoots at 6fps. This type of camera is suitable for those who want to have the quality of a DSLR but don't want to carry a big camera. For those of you who have never used a Pentax before, they make the best camera for the money.
The Pentax K-70 has the best in class camera with a shutter speed of 6000th of a second, which is very useful for stopping actions like sports, nature, and other kinds of moving objects. The flip-out LCD it has is very useful when you are trying to get different types of angles and also for taking great selfies.
The Pentax K-70 also has a body shake reduction (SR), which clicks clear pictures even when the camera is shaken while taking an image. Apart from all the above features, the Pentax K-70 also comes with built-in Wi-Fi.
Frequently Asked Questions
How do you take selfies with a professional camera?
The easiest way to take a selfie with a professional camera is via WiFi. Nowadays, built-in WiFi is a must feature in every camera and every manufacturer is providing WiFi in their camera. To click a selfie, you first need to connect your smartphone via WiFi to your camera's WiFi.
To connect your phone to the camera, you need to download a wireless mobile utility app. After connecting your phone to the camera via WiFi, place the camera on the table and by using the wireless app on your phone you can click the picture remotely from your smartphone.
What is the best camera or selfies?
Nowadays, all the cameras are made for taking selfies, however, our choice is the Canon PowerShot Digital Camera [G7 X Mark II]. The reason being the 20.1-megapixel CMOS sensor with an optical zoom of 4.2x, which gives an incredible image quality.
The 3-inch touchscreen, which flips up to 180 degrees for taking a selfie can be used for taking an ideal selfie. Also, the camera is compact and also light in weight so that one can easily hold the camera for clicking a selfie. The camera also offers low-light photography that helps you click selfies in the dark.
Conclusion 
Cameras tend to be a very important aspect of a person who is into photography. Buying the best camera for selfies is a very important and long-term investment, hence there have to be certain parameters starting from budget to features you need in your camera.
These small considerations while buying a camera will help you a lot in the future. Therefore, we are here to help you, so that you can take just the right product which suits your choice and also fulfills all your requirements. So, do go through our digital camera buying guide to find out the best camera for you.