The Intel Core i9-9900K is a monster of a CPU and is used to build top-level PC rigs. This CPU uses overclocking to push its capabilities to the limits. However, this often leads to overheating problems and puts the PC components at risk. The best CPU cooler for i9-9900K should solve this problem quietly and effectively.
A CPU built for advanced gaming and other tasks with superior processing needs overheats a lot. A high-end cooling system is necessary for such powerful CPUs. There are two types of cooling systems that are used with the CPUs like the Intel Core i9-9900K; Air Cooling and Liquid Cooling.
You will need a CPU cooler that is capable of high cooling, fits in your budget, and is compatible with your PC. Let's look at some key factors that matter the most when searching for the best CPU cooler for i9-9900K.
Things to Consider when Buying a CPU Cooler
Size and Bulkiness
Well, most buyers tend to forget this very essential factor when buying a CPU cooler. Some fans are larger and may not fit inside your PC case. Go for a CPU cooler that is not so bulky and can be adjusted in your cabinet. 
CPU socket
Another compatibility issue might arise if the CPU cooler supports a different CPU socket than yours. Most CPU coolers that we review are compatible with traditional sockets used in CPUs. However, you must go through the specs to make sure that the cooler would connect with your socket type.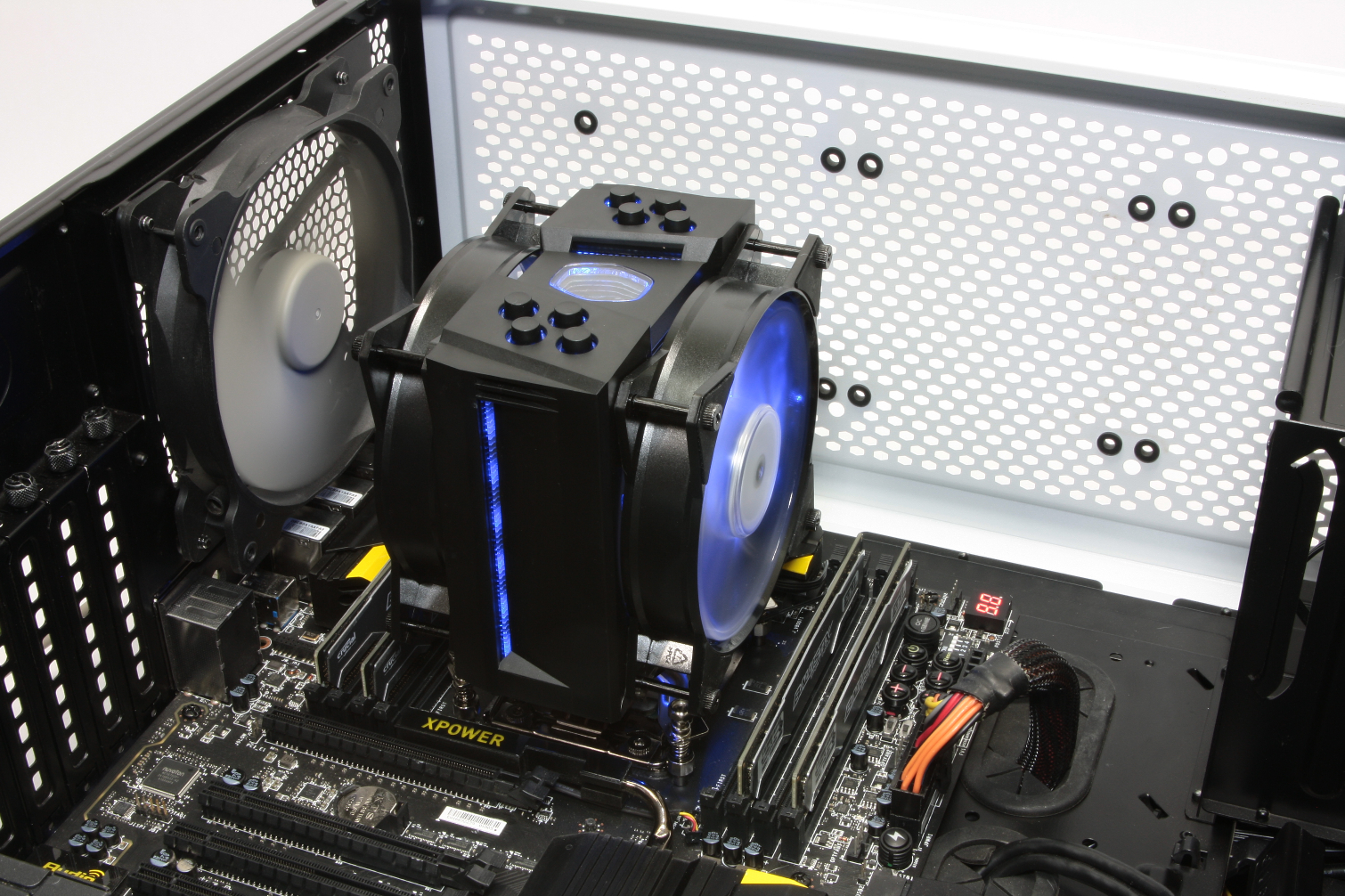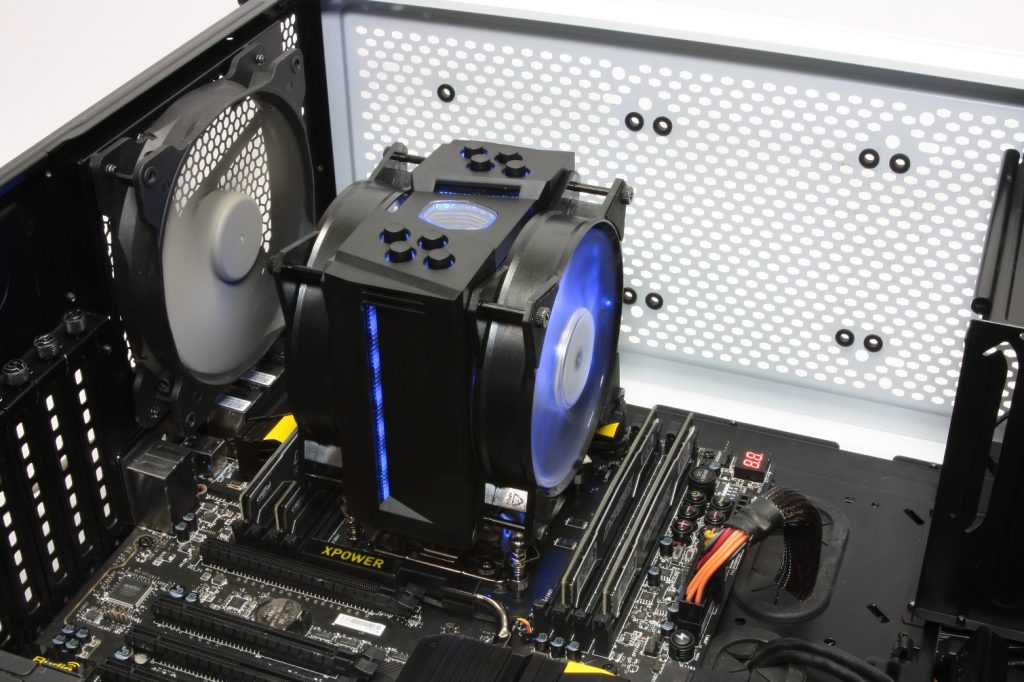 Air Cooling vs. Liquid Cooling
Once compatibility is ensured, next comes the performance and pricing. Air cooling is a more affordable solution, but a liquid cooler absorbs more heat. If you are on a tight budget, look for an effective air cooler for your CPU. 
An air cooling system typically comes with a big metal heat sink and a fan that pushes air away from the processor. These can often be louder, so you need to choose one which is relatively quieter. 
The liquid cooling systems transfer cooling liquid towards the fans in a cycle to remove the hot air out of the case. These coolers are quieter but can be more expensive. If you want to execute heavy tasks on your PC, a liquid cooler should be more efficient. 
Avoid Noise
All CPU coolers produce some noise during the fan rotation. The decibel value should be low enough that it doesn't disturb the quiet in your room. If a fan is loose, too small, or not powerful enough, it can create noise. 
Air Cooler Software
Some CPU coolers come with software that offers the ability to control lots of features like RGB settings, fan speed, etc. Such software is not essential to the working of your CPU fan but does have some advantages. CPU cooler software can help you monitor the temperature, RPM, or customize the RGB lighting. 
Best CPU Coolers for i9-9900K Review
Noctua NH-D15
The NH-D15 by Noctua is a very potent CPU cooler, which is large and heavy but is very effective in cooling high-processing CPUs. It has a bulky heatsink coupled with 6 heat pipes and 2 fans. The net result is a low temperature with minimum noise. It does a wonderful job, even without water. 
Overclocked CPUs have boosted performance but suffer from excess heating. Noctua NH-D15 is an air cooler but matches the cooling capacity of a liquid cooler. The two 140 mm cooling fans included with this cooler would solve the heating problem for high-end CPUs like the i9-9900K. 
The inclusion of PWM fans means better power efficiency and noise-free operation. Cooling performance is also better with such fans. The maximum surface area in these coolers ensures maximum airflow through the pipes. 
This cooler comes with multiple sockets for ease of mounting. It also supports the newest RAM modules and is compatible with most RAM modules in the market. Its fine build-quality and top- notch-cooling make it ideal for the overclocked gaming CPUs. 
Be quiet! Dark Rock Pro 4
Here we have a budget cooler that is also one of the quietest CPU coolers. It features a double tower layout to fit in two aluminum heat sinks and enhance RAM compatibility. It includes two fans but leaves room for one 120mm additional fan for better cooling. 
It's no doubt one of the best CPU coolers for i9-9900K and would keep the temperature low even during peak CPU performance. It's almost inaudible and still provides optimum cooling to your CPU.
The brushed aluminum top covers add a touch of elegance to this CPU cooler. If you are concerned with the aesthetics of this cooling system, you won't be disappointed. It uses fine ceramic particle coating for improved heat transfer. 
However, the primary reason to buy this cooler would be its highly efficient cooling with the bare minimum noise. It's an excellent cooler for your gaming PC that won't disrupt the peaceful quiet for others in the room.
Cooler Master Hyper 212
Modern cooling systems are being equipped with technology to reduce power consumption while increasing cooling efficiency. High durability is another characteristic of these latest cooling systems. Cooler Master Hyper 212 is a new generation cooler, rich in such features.
Before we talk about how aesthetically pleasing this is with the customizable LED colors and the gunmetal finish, let's get straight to its performance. Issues like repetitive shutdowns due to the temperature exceeding the limit would no longer continue with this CPU cooler. 
The 4 heat pipes included in this cooler use direct contact technology for effective heat dissipation. The stacked fin array helps reduce resistance to the airflow, thus amplifying the cooling. That's not it. It has a smart fan sensor that would solve the problem of cables getting snagged. 
This cooler gets the job done, but is it noiseless? Yes, it also makes the list of noise-free air coolers. You will notice a barely audible sound when the CPU is operating at its peak. Otherwise, it's pretty much noiseless. 
What else do we like? It has extensive support for CPU sockets, so you need not worry about it being compatible with the socket type. Most people ignore this very basic requirement while buying a CPU cooler. Even the best CPU cooler for i9-9900K would be useless if it isn't compatible with the CPU.
Corsair Hydro Series H150i PRO R
If you have the budget for a liquid cooler and need a solution that is both reliable and effective, Corsair Hydro H150i should appeal to you. There is almost nothing to complain about this AIO cooler. AIO are CPU coolers that include water blocks, heating tubes, radiators, fans, and pumps as a single package. The net result is impressive cooling efficiency.
Corsair Hydro has all the capabilities that you expect from an AIO cooling system. It is highly durable and is one of the quietest AIO available in the market. The overall performance of this CPU cooler remains unbeatable. If you have the budget for it, you don't need to look any further. 
This CPU cooler may, in fact, be necessary if you are planning on overclocking the i9-9900k beyond 5GHz. AIO coolers are more effective and quieter compared to air coolers. If the high cost is not an issue, this one would maintain a low temperature even when your CPU is overloaded.  
This Corsair cooler comes with RGB color control for an advanced lightening effect. Fan and pump speed both are monitored from the PC. Also, you don't need to stress about installation as this cooler is very easy to mount and install. 
Scythe Mugen 5 Rev.B
It's the minor factors that can impact the cooling capacity of a CPU cooler. The Scythe Mugen 5 has plenty of such details which help improve its cooling. It has been designed keeping in mind all the practical nuances that affect its compatibility with the CPU. It will accommodate RAM modules with a tall heat sink and supports most socket types. 
What enhances its cooling power are the 6mm heat pipes and copper plate base. These help with greater heat dissipation and thus better cooling. This air cooler can easily handle gaming PCs and overclocking with a high TDP processor. Its cooling performance can surprise some people owing to the extremely low noise performance. 
The new mounting system and spring-loaded design make its installation quick and easy. It supports the AM4 mounting bracket and is compatible with most CPUs. Its excellent compatibility and advanced cooling definitely make it the best CPU cooler for i9-9900K that's quite affordable. 
Frequently Asked Questions
How hot should my i9 9900k get?
The temperature of your CPU when not running any program should be around 122 degrees Fahrenheit. However, this value can go significantly high up and reach almost 176 degrees Fahrenheit while playing games or running multiple tasks. Overclocking temperatures could go as high as 90 degrees / 194 fahrenheit. 
High-end CPUs would overheat much more since they have an extremely high processing power. If the temperature stays high for too long, it could affect the performance. Using the best CPU cooler for i9-9900K should ensure low CPU temperature without causing much noise.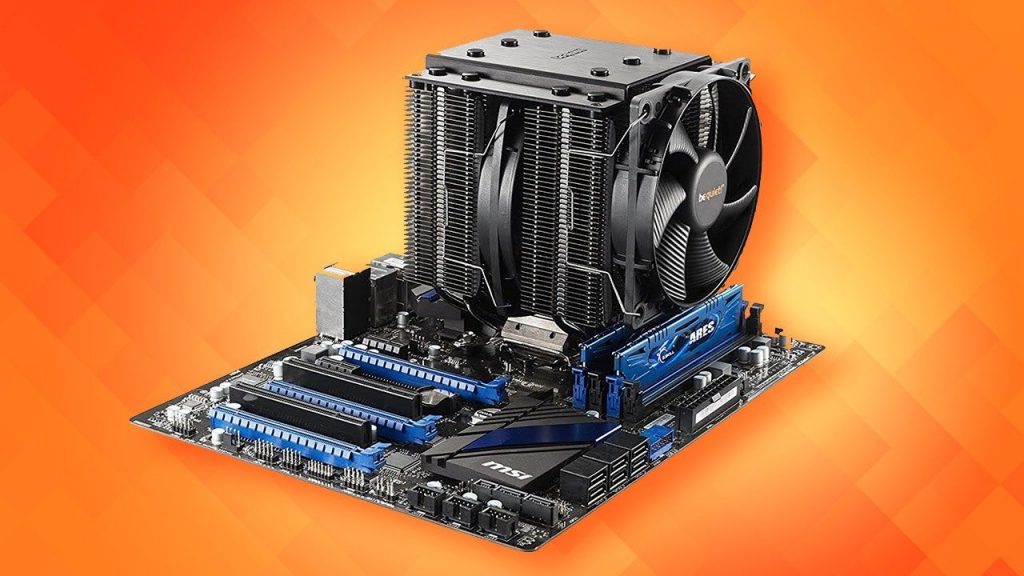 Does i9 9900k need liquid cooling?
i9-9900K is an absolute powerhouse and can often cause overheating issues. You will need an aftermarket CPU cooler with excellent cooling capability. Liquid coolers are the most effective with such high-end CPUs, but some air coolers that we have reviewed are effective in bringing the CPU temperature real low even for i9-9900K.
So, if you have the budget for a liquid cooler, that would take care of any heating problems. But if you need a less pricey solution for CPU overheating, we have shared some of the best air coolers that would easily get the job done within your budget.
How can you lower the CPU temperature?
There are several things you must do to fix the heating issues. Clean your computer, reapply thermal paste, fix bad cable management, etc. But none of that would produce significant results unless you get a CPU cooler that is adequate for the CPU. 
Moderns CPUs consume enormous power, especially while running heavy games or apps. You can upgrade your CPU cooler or add more fans to your system to bring the temperature to a lower value. 
Conclusion
The stock cooler can be inadequate for certain high-processing CPUs like the i9-9900k. You can either buy an air cooler with multiple heat pipes, larger heat sinks, and overall efficient cooling with low noise, or you can choose a liquid CPU cooler if you have the budget for it. 
If you have built a gaming PC rig, your CPU may overheat, especially during peak performance. Overclocking the CPU for improved performance can also cause the temperature to go very high. The best CPU cooler for i9-9900k should be an affordable solution for the overheating problem. 
We have listed the top air and liquid coolers for you that should be compatible with most CPU sockets and the RAM module. Also, most of these CPU coolers are easy to install and require little time.