If your iPad supports the Apple pencil, one of the best ways to use this tool is to draw, sketch or paint. It turns out to be more affordable than a traditional sketchbook and you won't have to worry about saving your art pieces in several places anymore. Let's not forget, you will never run out of supplies. There is no need for you to worry about investing in expensive tools either.
Whether you are a professional artist or you are just getting started, downloading a drawing app for the iPad is something that will help you master your skills. Let's take a look at some of the best drawing apps for iPad you can get your hands on.
If you want to get your hands on the best apps for drawing designed for professionals then procreate is apt for you. It is one of the best sketching, painting and illustration tools you can get on your iPad. It is recommended for people that can work flawlessly with the Apple pencil.
The app consists of some exclusive tools which include dual textured brushes, smudging tools and more. This can help you create your perfect masterpiece. In case you are not happy with the tools procreate offers, you can create your own tools on the app.
It has a high resolution canvas which allows you to print your work on extremely large paper sizes without pixelating them in any way. You can save it in various formats and this enables you to transfer the file to multiple devices.
Pros
Comes with exclusive tools
Complete sketching, painting and illustration app
Delivers high resolution images
Cons
If you are not comfortable spending money on apps for drawing, we suggest downloading this Paper By Wetransfer app. It allows you to create multiple journals where you can design your own sketches and even save some notes.
There are numerous tools offered on the app and it is a great way for beginners to learn drawing. The free version of this basic app allows you to draw, create outlines and even write. If you choose the subscription, then you will get more tools to use.
This app helps you get creative and also allows you to transfer your saved designs to other devices with the pro subscription. If you just want to learn then the free subscription will work perfectly for you.
Pros
Basic version is free
Lot of room for flexibility
Versatile for beginners
Cons
You cannot transfer your sketches unless you take the paid subscription
If you are looking for the best drawing apps for iPad air but you are on a budget then the Adobe Illustrator draw is a good option to consider. It helps to automatically transfer your saved files to the Adobe creative cloud helping you save your work as you go.
The app comes with various customizable tools and brushes and also stencils and shapes that allow you to create any perfect design that is in your head. You can also combine two or more images together to get some amazing results.
You can draw up to 8K resolution and this means your images can be printed out on a large scale, just in case you feel like hanging them up in your house and you can save your work on the cloud so space isn't much of a problem however you get about 20 GB inbuilt space and if you want more you will need to pay for it.
Pros
Free app
Large variety of tools and shapes
Images can be saved to the cloud directly
Budget friendly app
Cons
Images can only be saved on a paid subscription
You only get 20 GB storage space on the cloud
If you focus more on sketching and painting rather than traditional drawing then the Adobe Photoshop Sketch app is apt for you. It comes with a total of 24 built-in brushes which are adjustable and allows you to balance the opacity and blend settings as per your requirement. You can use these brushes to sketch as well.
The app has limitless possibilities with regards to what you can do and it's one of those apps that professionals enjoy sketching with. You can save all your work on the Adobe cloud using the app and this comes handy when you have to sketch multiple pieces.
You won't have to worry about a single page missing when you have the cloud as a backup. This app also offers an 8K resolution for massive printouts. Read more: 10 Best Photo Editing Apps for Android
Pros
Specifically designed for sketch artists
24 built-in brushes
Ability to make photos into drawing layers
Comes with preloaded stencils
8K resolution
Cons
20 GB storage space on the cloud may not be sufficient
You are allowed to use the space on the cloud only with paid subscription
If you are looking for a powerful sketching and drawing tool then this app is something you need to get your hands on. While it comes loaded with some amazing features, this app is free to use. If you are a beginner and you want to improve your skills as an artist, this might be the perfect app for you to do it.
You get a distraction free user interface which allows you to focus on what you want to do. Most artists need a blank canvas with minimum distraction and that's exactly what Autodesk SketchBook offers. It comes with a variety of brushes and a wide multitude of colors to help enhance your sketches. The app also has some intuitive gestures and shortcuts you can add to cut down your drawing time.
Pros
This is a free app
Distraction free user interface
Multiple tools to choose from
Quick access and shortcut features
Cons
You can only practice on the app and you will not be able to transfer images
It takes some time getting used to the app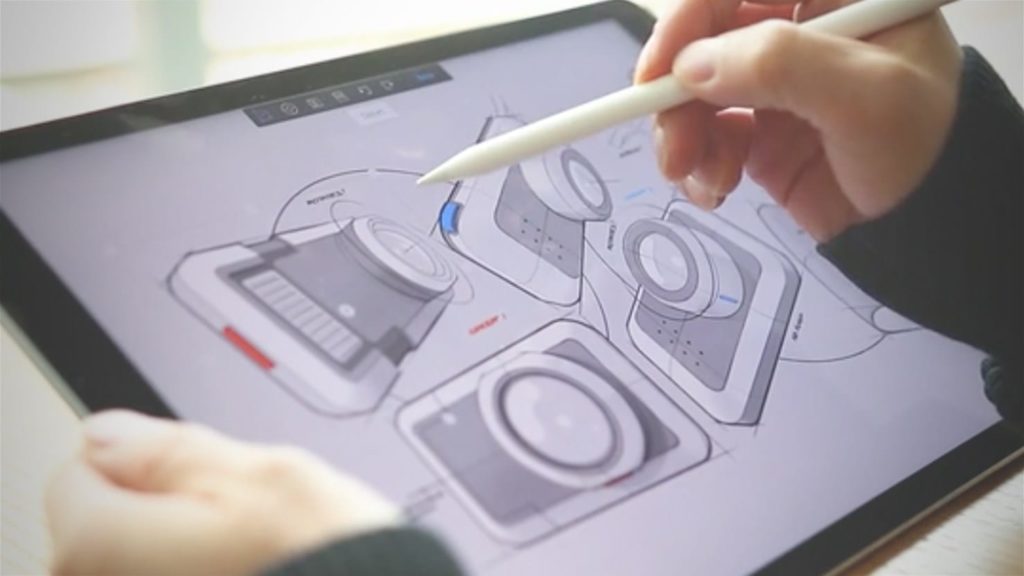 Verdict
There you have it. We have listed some of the best drawing apps for iPad you can get your hands on. Whether you're looking for an advanced tool or a free beginner app, we have covered them all for you.