Nowadays, Android phones serve several purposes apart from their basic calling and texting functionality. One of the most popular uses of our smartphones includes audio and video content creation. While Android phones do have built-in microphones for your recording needs, they fail to match the expectations of passionate content creators. That's where external smartphone mics can come in handy.
There are several brands that make great quality external microphones. However, it can be overwhelming to find the right mic for your unique needs. To make this process easier, in this buying guide, we bring you some much-needed information about the 5 best external microphones for Android phone. Let's check it out!
Best External Microphone for Android Phones
Comica CVM-VS08 Professional
Are you looking for a professional external microphone for your Android phone? Here's an excellent product by Comica that is sure to meet all your recording needs. The build material of this microphone is 100% aluminum which ensures a good anti-interference effect. It also comes with a super noise cancellation feature for the best audio experience.
The background noise is also reduced by the windscreen and muff making it a great option for outdoor filming. The stability of the mic on your smartphone is taken care of by the clamp that comes attached to the microphone.
Due to its compact design, it tends to work as a wireless microphone for Android phone. Since it's a directional condenser type of microphone, this can be an ideal choice for those wanting unidirectional sound capturing. The recording distance of this device is around 8-10 feet making it a suitable pick for live broadcasting or vlogging.
BOYA by M1 Lavalier
This Lavalier microphone by M1 is one of the most affordable ones on our list of the best external microphones for Android phone. In under 20 dollars, you get a high-quality omnidirectional condenser microphone. The clip-on design of this product makes it an ideal choice for smartphones as well as DSLRs. It comes with an integrated 6-meter long cable with a 3.5mm 4-pole gold plug ensuring super sound for all your vlogging needs.
The Omni pickup pattern makes sure there is a 360° coverage and you get to capture anything in your sight. The metal design of the product makes it feel solid and sturdy. The 3.5mm jack of this mic lets you directly plug and play with both your smartphone and DSLR.
This microphone is a good choice for those who want to be able to pick up sound from a distance without requiring much improvement in the sound resolution. So, if you are a newbie content creator looking for a budget-friendly microphone, this one is your best bet at this price.
Rode SmartLav +
Have you been searching for a professional-grade wearable microphone that provides a significant upgrade to sound in your Android phone? Here's a fantastic Lavalier mic that you can buy for less than 100 dollars. This product comes with a high-quality omnidirectional condenser capsule that ensures excellent sound pickup from all sides. The foam shield on the mic keeps away wind noises and other outdoor sound disturbance.
You get built-in cable management in the mounting clip which prevents stretching or snapping of the mic. The compact design of this product makes it easier to use for outdoor vloggers as well as podcasters.
This amazing device is designed to be compatible with any audio application as long as it accepts input from the headset connection. It also offers a variety of equalization presets to match various recording situations. In the package, you also receive a durable mounting clip and a carry pouch. To top it all, this product comes with a 1-year warranty. What's not to like about that?
Rode VideoMicro Compact
If you have been searching for a compact product to enhance your audio content, we've got one for you. Rode has rolled out an excellent mini shotgun microphone that you can get in an affordable 60-dollar range.
This cardioid mic is a fantastic option for those who don't want to go for a non-directional microphone that picks up sound from all around. It comes with a flexible mounting bracket and you can connect it directly to the headphone/TRRs socket of your smartphone.
You can a high-quality furry windshield with this to use while filming outdoors. It keeps the distracting peripheral sounds away and focuses on the audio in the sight of the camera.
The microphone body all aluminium along with ceramic anti-glare black coating for high level of RF rejection. Not only that but it is also designed using hard-wearing thermoplastic to minimize unwanted vibrations and cable-borne noise. It is powered directly by your smartphone's plug-in power so you never run the risk of running out of battery.
MAONO AU-100
Here is another budget-friendly option that is sure to enhance your smartphone audio recording experience. In a 20-dollar range, you get a high-quality flat frequency Lavalier microphone. This product has a 3.5mm TRRS audio jack making it compatible with the computer, iPhone, and Android. Apart from that, you also get a 6.5mm adapter that makes it usable with DSLR, camera, and other similar professional audio devices.
Its 236-inches long cord aids in better sound output when interviewing, podcasting, or video calling. There's a mini metal clip on the device that makes it easy for you to clip it to different platforms.
On the device, there is a one-switch button to toggle between using it with the camera or smartphone. In the package, you also receive an extra button battery, a carry bag, and a wind muff which easily makes it the best external microphone for Android phones in this budget range.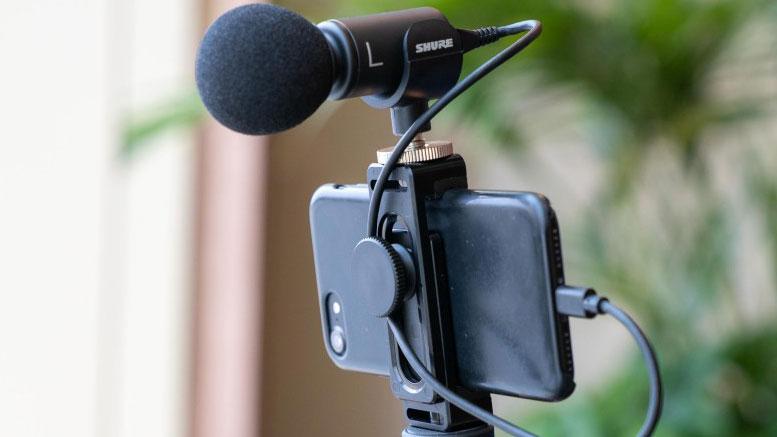 Frequently Asked Questions
What are the advantages of condenser microphones?
It is easier to obtain flat frequency response and larger frequency ranges with condenser microphones. They are small in design and are much more sensitive to loud sounds. These qualities make them ideal for use in studios to capture vocals and sounds of acoustic instruments. Condenser microphones offer superior sound quality and the best transient response compared to all microphone types.
What are omnidirectional microphones?
Omnidirectional microphones are designed in a way that they can pick up sound from all directions of the microphone with equal gain. This is especially useful in applications like musical performance or choir performance where there is sound coming from multiple sides.
Whether you go for wireless microphone for Android phone or those with the USB support, omnidirectional ones can be a real treat to use.
What are cardioid microphones?
This type of microphone picks up sound with high gain from the front and sides of the device. Their sound pickup tends to be poor from the rear, hence they are essentially unidirectional microphones. This aids in situations when you want to block the ambient sound and cause feedback suppression. These microphones are quite popular for mixing loud instruments or live performances.
Conclusion
All Android phones come with built-in speakers that are good for day-to-day calling, but often disappoint when it comes to serious content creation. However, you don't need a complicated setup to bump up the audio quality of your podcasts or interviews. All you need is a compatible external microphone that fulfils your sound requirements.
The first step is to figure out what exactly are you looking for. Do you want to enhance your contents sound quality or you just want better sound pickup? Do you want a wireless setup or you are comfortable with a wired mic as well? All these questions can easily make you confused.
We are here to help you find the best external microphone for Android phone. Read up on our buying guide for some excellent microphone recommendations for your Android phone and make an informed choice.