Low profile graphic cards pack just the right amount of power for your video streaming and gaming needs, but fit in computers with smaller cases. Smaller sizes define these low profile GPUs. When you set out to buy one of these, how do you figure out which is the best low profile graphics card for you? 
The best GPU should be compatible with your computer and also offer the maximum benefits in your budget range. These are also quite handy when setting up multiple screens to display certain information or for building a gaming PC.
Factors to Consider When Buying Low Profile Graphics Cards
Video RAM (VRAM)
This is the most critical aspect of a graphic card and determines the max resolution it can handle while playing games or watching a video. A value of 1 GB to 2GB should be enough for video output, but most modern games would require it to have at least 4 GB of VRAM. 
You may need an even higher VRAM if your settings are turned up and you're gaming at a very high resolution like Quad HD or Ultra HD. An 8 GB memory would be ideal in such cases.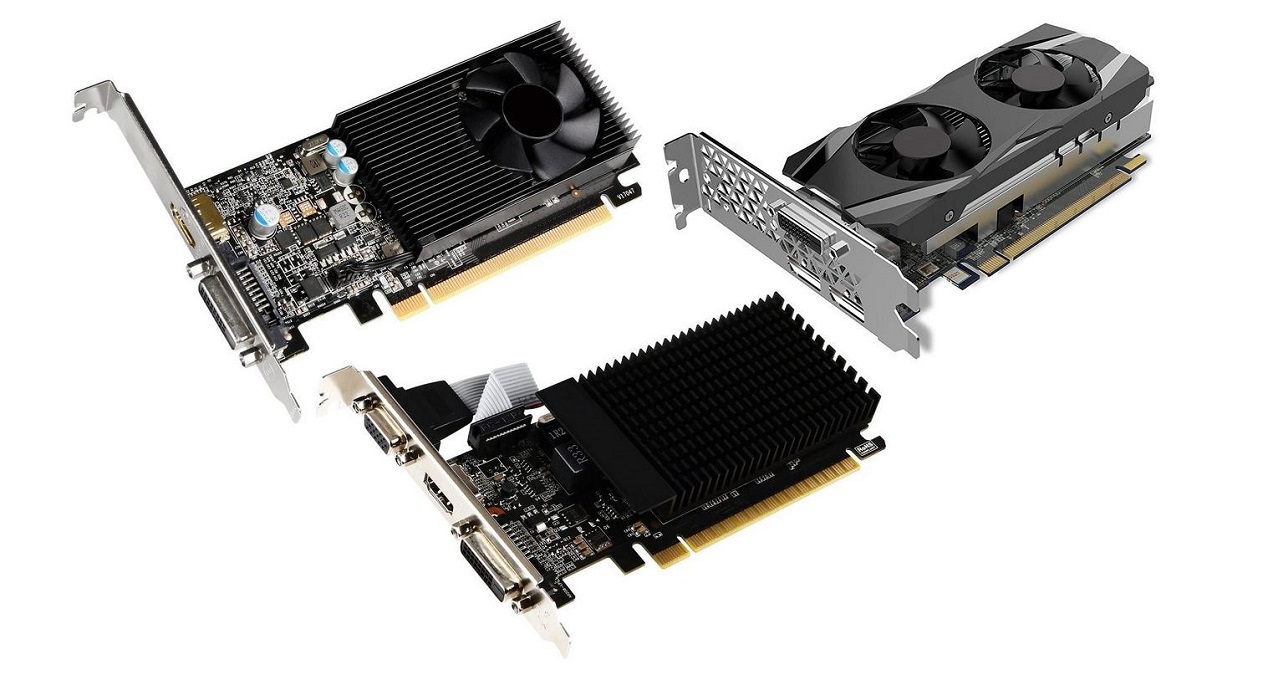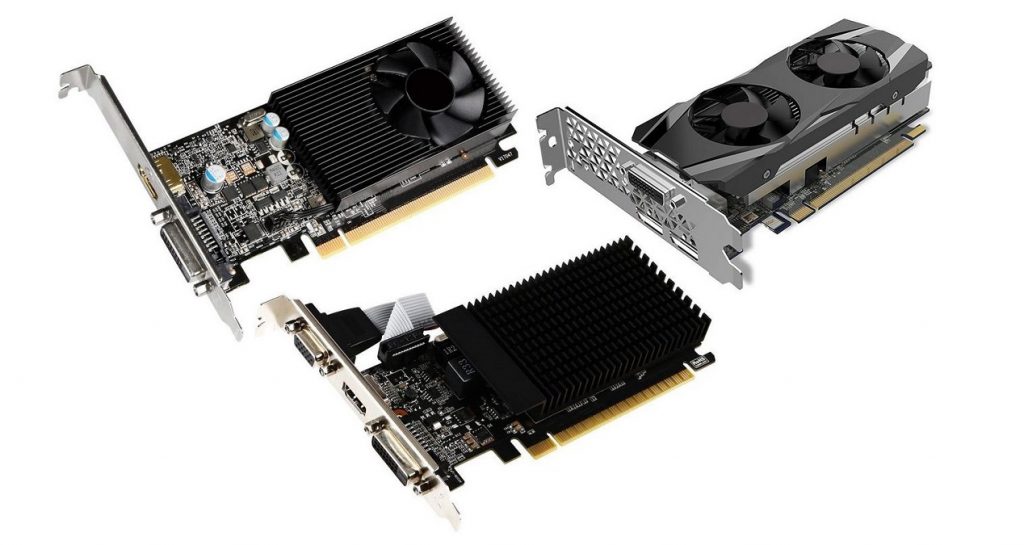 GPU Model 
Another factor that matters when buying a GPU is its model. Higher-end GPU models are usually more powerful than lower-end ones. Checking the GPU model should be the first step when assessing a graphic card before buying it.
Nvidia and AMD make discrete GPUs today but there are other manufacturers like Gigabyte, MSI, Asus, EVGA, that add their own tweaks in and produce their own cards using Nvidia and AMD's chips.
One company might offer overclocked cards right from the factory; the other might offer better fans or a warranty. There are two relevant numbers you should know, the model of the GPU and the model of the card itself. You should always look for the actual model of your card along with the name of the chipset. Read more: How to Tell If Your Graphics Card Is Dying
Form Factor 
A GPU card would be meaningless if it doesn't fit in your computer case. You need to check the length, height, and thickness of a card to confirm if it will fit easily. GPUs can be available in half-height, single-slot, dual, or even triple-slot. However, gaming cards typically come in full-height and can occupy two or more expansion slots.
Clock Speeds
Clock speeds are a major factor that affects the performance of a graphic card. A graphic card with a higher clock speed would perform better than another card with the same GPU model and VRAM. But the clock speed isn't everything and you should look at other specs like core counts, memory speed, etc.
CUDA Cores/Stream Processors
If you are comparing two graphic cards with the same architecture, then CUDA cores become relevant and should be able to help you tell which would perform better. CUDA cores are an important spec of Nvidia GPUs. These are equivalent to CPU cores, but the number would be in the hundreds. 
For AMD cards, you would find the number of stream processors to determine the GPU performance. This has the same effect on performance as CUDA cores in the case of Nvidia cards. However, you shouldn't compare the value of CUDA cores to the number of stream processors since both are based on different technologies.         
Best Low Profile Graphics Cards Review 
Asus GeForce GTX 1660
This piece of NVIDIA-made technology is overclocked for faster rendering of multimedia files and smoother gameplay. The 6 GB GDDR6 memory would allow for playing modern games at high resolutions. The card has a maximum definition of 7680×4320 and can run pretty much any modern game. 
The 1830 MHz boost clock and 1408 CUDA cores ensure very high performance and you can easily enjoy fast games. These are some really impressive specs for the price. You can play most mainstream games, even on a budget. 
Now, the most important part is, will it fit in your case? The compact frame of this graphic card maximizes compatibility with the latest chassis. It's a short form factor and thus would easily fit in smaller PC cases.
The design and features are both leading edge. The wing-blade fan design reduces the drag, thus enhancing the performance. The ASUS GPU Tweak II utility allows you to tweak parameters like memory frequency, voltage, GPU core clocks, advanced fan control, etc. 
VisionTek Radeon 7750
In comparison with Nvidia graphic cards, AMD has some unique offerings that are suitable for some specific users. VisionTek Radeon is one of those cards tailored for a large multi-monitor setup. It boasts 512 cores clocked at 850 MHz and 2 GB GDDR5 VRAM, which would feel adequate for purposes other than gaming.
Since this is built mostly for handling multiple monitor displays, it is not very suitable for gaming. But you will find plenty of features for displaying information on as many as 6 monitors. It has 6 mini display ports and various adapters. It is also excellent for your HTPC setup and supports 4k resolution.
Its 2 GB VRAM is clocked at 6008 MHz for maximum efficiency in performance. The overclocked GPU requires a single fan cooler which results in a larger 1.5x slot form factor. This card is the perfect solution for traders who need to analyze graphs in multiple time-frames simultaneously.
MSI GTX 1050 TI 4GT 
This is a low profile gaming card that would run most of your modern games without a sweat. It boasts a video memory of 4GB GDDR5, which is high-enough for fast games even at high resolutions.
For video output, it has a Display Port, HDMI Port, and DVI-D. You can expect to enjoy a smooth gaming experience with this graphic card. Its compact size allows it to fit in most types of cases. It's a little beast that would add the graphic power your system needs to handle high-end games.
The fan remains inaudible under its default profile. There are also no heating problems with this card. It's durable and reliable for gaming and won't crash when running fast games.
XFX Radeon RX 560
With 4GB GDDR5 VRAM XFX Radeon runs all sorts of latest games smoothly. The XFX OC+ capability makes it fast while the true clock technology helps enhance the performance. It uses memory cooling technology for noise reduction and to avoid overheating.
If you need a card that would let you play more advanced games, then XFX Radeon would probably fulfill your needs. It supports a max resolution of 4096*2160 pixels. The RAM size is also adequate for gaming. You can enjoy your favorite games in high graphics without it crashing again and again.
This is a reliable graphics card for your PC that should easily fit in most cases. For video output, it has an HDMI port, DVI, and a Display Port.
Gigabyte Geforce GTX 1050
It's a sleek-looking graphics card suitable for multiple purposes like gaming, multi-monitor setup, video streaming, etc. This one is a low profile design with a 167 mm card length. You can plug as many as 4 displays with this card. 
It comes with a 1341 MHz base clock and a 1455 MHz boost clock. You can expect a max resolution of 4096*2160 with the HDMI port and 7680*4320 with the display port. Tuning the card for gaming purposes is super easy with one-click super overclocking. The XTREME engine utility is also very useful to regulate clock speeds and voltage. 
This card boasts a 4 GB VRAM, 1442 MHz boost clock, and 1328 MHz for base clock, which are the ideal specs for a gaming graphic card. It also comes with a 3-year warranty so you can use it carefree. 
Frequently Asked Questions
Does the size of a GPU matter?
Yes, the physical dimensions of a graphic card do matter. If you have a small case with drive bays positioned in a way that there is smaller space available, the card won't fit in. For a small form-factor case, the card should be the right size to fit in. 
What is a low-profile card?
Low profile graphic cards are designed to fit in a small-form-factor PC case. These are built to provide better 3D and graphic acceleration compared to the integrated GPU but retain the compact size. Consequently, these are also very power-efficient. These cards are often used for dedicated machines like a gaming PC, displaying trade charts, video editing PC, etc. 
How do I choose a video card?
You should go with a graphics card based on your budget, but it should fit in your PC case and should be powerful enough for the purpose you are going to buy it for. For video streaming or gaming, the VRAM should be adequate. 
People also buy these cards to work with their multi-display setup. The card should have enough ports to connect multiple screens. Size, performance, compatibility, and ports are the few things that matter when choosing a video card.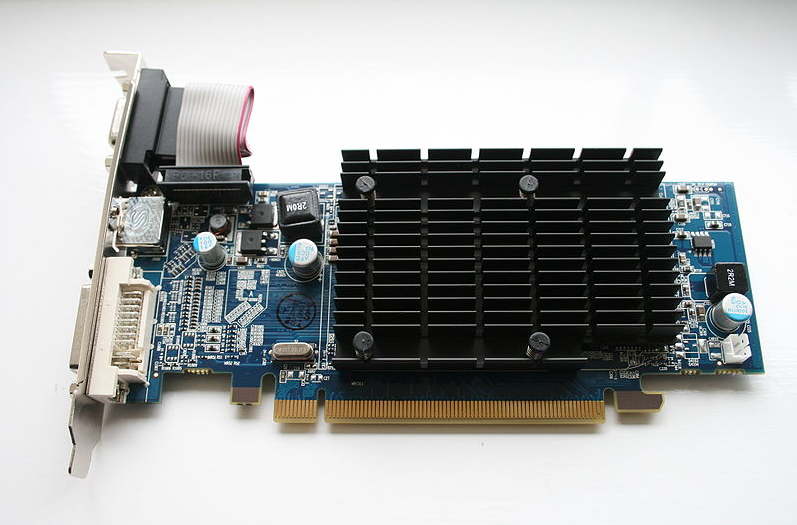 What are some of the best low profile cards for gaming?
Graphic cards should have a minimum of 4 GB of VRAM for a decent gaming experience. There are some other factors like the clock speeds, number of CUDA cores, etc that help determine the performance of a card for gaming.
The Asus GeForce GTX 1660 is a card suitable for heavy gaming. It's 6 GB VRAM, which means it can handle fast games at a very high resolution. MSI GTX 1050 TI 4GT is another beast that will make the latest games run seamlessly.
Which low profile graphic card is best for trade setup? 
You will probably need to use the card for 4 to 6 displays to read trading charts. There are some graphics cards tailored for this purpose. VisionTek Radeon 7750 and Gigabyte Geforce GTX 1050 are best suited for multi-display setup.
These cards have plenty of features to work efficiently for this purpose. You can use display grouping to view multiple displays combined as a single one. These graphic cards are especially suitable for analyzing trade charts, but you can also enjoy playing certain games or edit videos without issues.
Conclusion
There is a vast market for low profile graphic cards designed for different functions and purposes. These can fit in small frames and consume less power. However, some of these cards are solid enough to handle fast gaming, video editing, viewing charts, etc.
It may seem hard to choose one that would be ideal for your needs. But with our guide, you can easily pick up the one with the right specs for you. The best low profile graphic card should have the right size, high enough memory, and should be durable. We have listed the ones with the best reviews and the right set of features for specific purposes.
Durability is another factor that one cannot ignore while buying a graphic card. The fan should provide enough cooling to the system with low drag. High cooling at low noise is also something to keep an eye on. You don't want to buy a graphic card that is too noisy.