Today, digital photography occupies an important position in our world. People tend to store their photos on a computer, but some of us want to hang their photos and pictures in a frame on the wall or put them in albums. To do this, we must first consider the fact that ordinary printers will not give us the quality we need for our photos. That's why we picked a few tips for selection and several models, which in our opinion are the best printers for art prints, to guide you in the endless sea of ​​devices on the market.
How to Choose a Printer
To choose the best printer for art prints, you need to consider several parameters, such as technology and print speed, supported paper sizes, and wireless compatibility. Let's take a closer look at the most important printers' features.
Printing technology
When choosing a commercial art printer, it is important to take into account all the features of the technology used to transfer an image from digital media to paper. There are currently three types of printing mechanism – inkjet, laser, and sublimation.
Home photo printers with laser printing technology are filled with a special toner, which is applied to the paper and then melted under the action of a laser. Such devices have many advantages. They have a long life and high reliability. The print quality on the laser is very good. Besides, they print quickly and with little noise.
Inkjet printing technology prints ink on paper through special holes. Some of the best printers for art prints are inkjet as they give a very clear picture. Another important advantage is the low price, so choose this type for home printing. When purchasing, keep in mind that expensive print cartridges need to be loaded and the print speed is low.
If you need to print small photos, the sublimation photo printer will work for you. The technology appeared recently but gained popularity due to its quality and convenience. To transfer images to paper, the device does not use paint, but a special film. It contains paints with basic colors. The printer creates a high-temperature level and the ink is transferred to the paper.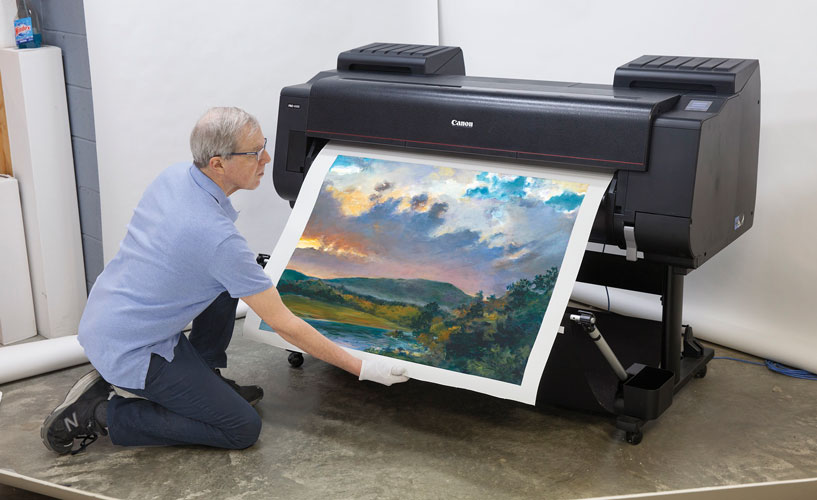 Cartridge type and colors
In the technical data sheets of photo printers, you will find terms such as four-color process and monochromia. These are terms that indicate the number and type of color cartridges in the printer. Most printers are full color, so they are based on the CMYK standard, which adds black to the three primary colors (yellow, red, blue).
However, there are devices, such as professional art printers, which have a larger number of colors. In this way, they manage to achieve much higher image quality. Keep this in mind before buying your next art prints printing device.
Print speed and supported photo formats
Before you buy a photo printer, check its print speed. It should suit your needs. Print speed is expressed in seconds for photos and pages per minute (ppm) for documents. It's easy to assume that more modern printers can print more photos per second, but they are also more expensive.
Most photo printers can generate photos in the classic 10x15cm format, but do not forget there are other photo formats (for example 9x13cm, 13x18cm, 15x21cm, and 20x30cm). They are not compatible with all types of printers. Before you buy a photo printer, make sure that it is compatible with all the photo formats you are interested in.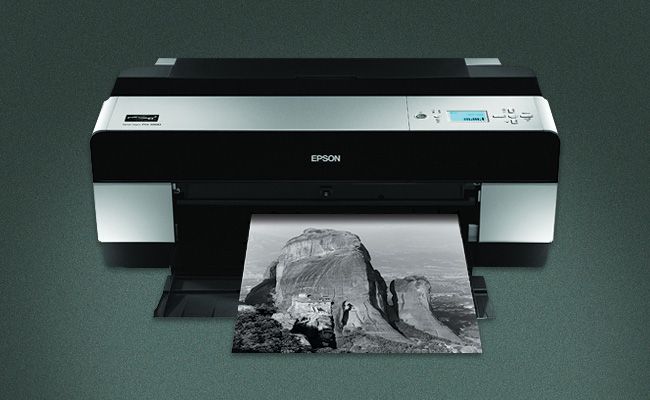 Resolution
The print resolution shows the level of definition of images printed on paper. It is expressed in DPI (dots per inch) And as you can guess, the higher it is, the better the final quality of your arts.
It is not very rational to buy an expensive photo printer with a photo print resolution over 4800 × 1200 dpi for home use. A bit lower resolution will provide enough smoothness and detail to the image. For rare high-resolution prints, you can always contact a photo studio. Besides, photo printers with a print resolution of more than 4800 × 1200 dpi are characterized by high cost – both the device itself and consumables – and low speed.
Wireless connectivity
Most modern photo printers can connect to computers, mobile phones, and tablets wirelessly, using WiFi networks with Wi-Fi Direct technology. It allows two devices to communicate with each other without having a router "bridge".  Some of the best printers for art prints also support Bluetooth and NFC for direct printing from mobile phones and tablets. These are almost always portable printers.
When you're in a wireless environment, we recommend you to check the compatibility of wireless printing services from different hardware manufacturers (such as AirPrint for Apple devices) and cloud printing services that allow you to request a photo or document for printing on the Internet ( eg Google Cloud Print).
Often the art prints printers also have an application for mobile phones and tablets that allow you to retouch photos "on the go" before printing. Isn't that a nice bonus if you intend to buy a photo printer that you use mostly on the go?
Ports and displays
Another feature to consider before buying a photo printer is the availability of USB device ports and/or memory card slots. These two components can be very useful when it comes to fast photo printing. without using the computer. USB devise and memory card ports are used to print photos directly from USB sticks, SD cards, and other removable media.
Have in mind, that the display allows you to adjust the print settings and in some cases even view or edit photos for printing. Very often, there may be a network port (Ethernet) for connecting the printer to a wired network.
Best Printers for Art Prints Review
Choosing the right photo printer for your goals and needs can be relatively difficult. Laser or inkjet? Plain or combined? Should you invest in a more expensive printer? To help you make the right and more informed choice – we present you with some of the most affordable best printers for arts and crafts on the market today.
Canon Pixma Pro-100
This Canon model will provide you with exceptional long-lasting color and monochrome prints. The photos will have rich, shiny, and bright colors thanks to the system with 8 dyes (three monochrome inks). This system uses Chromalife 100+ for improved color reproduction and longer life. An additional advantage here is the high printing speed of this inkjet printer. It is designed to print a 4 x 6 "borderless photo in just 34 seconds and an A3 + border page in approximately 90 seconds.
As for wireless connectivity, which is a must for the best printers for art prints, at Canon it is provided through the Canon PRINT application. With it, you will be able to print directly and easily from your tablet or smartphone. At the same time, the Ethernet connection will make it easier to integrate the PIXMA PRO-100S into your workflow.
With this printer, you'll forget about the trouble of finding the right print settings. Just use the Canon's Print Studio Pro plug-in, which is compatible with Adobe Photoshop and Lightroom. This will allow you to print directly from your professional editing software. The Pro Gallery Print app for iPad is also very useful to work seamlessly with professional cloud photography services such as Zenfolio and SmugMug.
Brother MFC-L8610CDW
Brother is a color laser multifunction printer suitable for use at home or in a small office. It provides stable output quality and speed as well as a wide range of connectivity options. This reasonably priced model lacks some functions found in many competing printers such as duplex scanning. But it is no coincidence that it was chosen among the best printers for art prints, as it has many additional features. One of them is its document management software.
The MFC-L8610CDW can be connected to a computer via a USB cable or to a local network via Ethernet or Wi-Fi. It can also connect using a direct connection to a compatible device via Wi-Fi Direct. The printer supports Google Cloud Print and works with the Brother iPrint & Scan application as well as the Cortado Workplace.
Epson Expression Photo HD XP-15000
With Epson's compact and stylish photo printer, you can create photos up to A3 + in size and look professional at home. Thanks to the 6-color Claria Photo HD inks with red and gray, the photos are natural and saturated, with even more detail. The XP-15000 has a large LCD screen and comes with a variety of mobile printing applications. It can be used with or without a wireless network – with Wi-Fi and Wi-Fi Direct. There is also an Ethernet connection for printing via a wired network. Besides, the auto power-on feature activates the printer and automatically opens the output tray when sending a print job.
The front-loading paper tray can be used for paper up to A4 size, and the back paper tray is for sizes up to A3 + and thicker. You can also print on both sides of the A4 size and suitable CDs and DVDs. This will give you the exact size of the photos you want.
One of the reasons we put Epson Expression among the best printers for art prints is its ability to print photos and documents on the go. Just download the free Epson iPrint2 app to print wirelessly from your smart device.
Epson EcoTank ET-4760
In general, Epson printers produce vivid, accurately colored, and highly detailed photos. As long as you start with good-looking digital image files, you should have no trouble using the ET-4760 to print photos and other promotional materials, for example, for your business. Although an inkjet printer, the time-tested Precision Core print head in the ET-4760 consistently produces well-designed, accurate, and attractive art prints that compete for laser-quality.
Besides all the excellent characteristics f Epson, it is also exceptionally economical. It includes enough ink in the box to print 7,500 black pages or 6,000 color pages, which means you'll have ink for 2 years! Still, you will have ink for about 315 monochrome pages or 250 color pages each month, which provides, given the price of the ET-4760, extremely low printing costs.
Another important advantage is that the standard connectivity of the ET-4760 consists of 100Mbps Ethernet, Wi-Fi, and connection to a computer via USB 2.0. In addition to Wi-Fi Direct, other mobile features of the printer include Apple AirPrint, Google Cloud Print, Fire OS, and Mopria Print Service support, as well as mobile utilities included in Epson Connect's suite of applications and services.
HP ENVY Photo 7855
The HP Envy has a wide range of features for connecting a photo-centric multifunction printer. Photo speed and quality have been improved over previous models. It is a great choice for home users who want to save money. This HP product can print, copy, fax, and scan. The printer supports HP ePrint, which allows you to send e-mail files as attachments to a unique address, even if you are in the farthest corner of the world.
Connectivity includes USB, Wi-Fi, and Ethernet, and the printer can also connect directly to compatible mobile devices from HP Wireless Direct or Bluetooth. Photo quality is also above standard. The colors are well saturated and vibrant. The HP 7855 does a very good job of preserving black and avoiding nuances in monochrome photos. Good black printing is in line with HP's promise of a new ink formula that generates better-than-normal photo quality for a printer with only two ink cartridges.
Frequently Asked Questions
What kind of printer do I need for art prints?
When you need an art prints printer, choose carefully. Consider what photos you will print on it and consider what technology you need – inkjet or laser. It's important to consider whether you're working stationary or want your photos printed immediately by sending them to your printer, even if you're not around. In this sense, different printers offer not only different quality but also different types of connectivity. Remember also the print speed and the price. Bet on proven brands in this field – Epson, Canon, HP.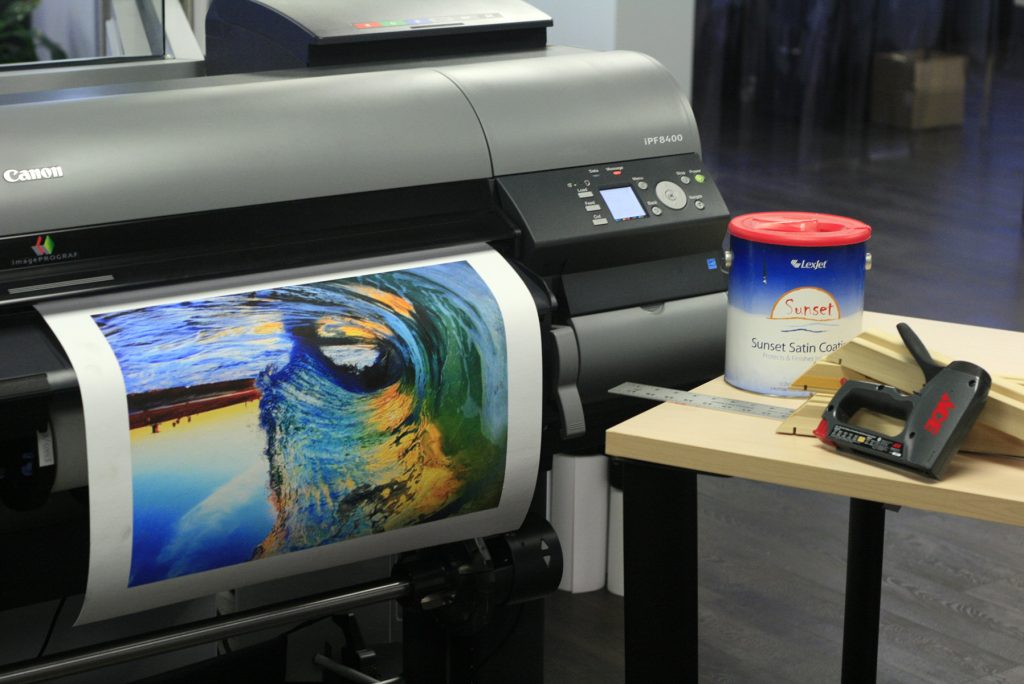 Is inkjet or laser better for art prints?
The main thing to pay attention to here is the quality of colors of both types of printers. Inkjet printers have a lower resolution than laser printers. Laser printers usually have better quality art prints because they have a higher resolution.
However, inkjet printers are usually recommended for color printing. Some of the best printers for art prints are inkjet and they are completely capable of printing large photos, graphics, greeting cards with very high quality. Another advantage is that the price of inkjet printers is much lower than laser printers.
How do you print art prints at home?
Before you start printing, you need to prepare your photos. Learn how to use the sharpness, contrast, and color settings correctly. If you want to have maximum detail in the printed photo, it is very important to optimize the resolution of the file according to the print size. Estimate the aspect ratio of different photos and print papers. And most of all – choose a good device, whether you choose a commercial or professional art printer.
Conclusion
Undoubtedly, the printer is of great importance for the quality of the photos taken or used by us. The huge choice that exists on the market is also indisputable. Make no mistake – think and choose carefully. Try to pick a printer that has print quality, easy-to-use software, improved connectivity, and a beautiful design.
Always pay special attention to the manufacturer and printing technology. It is also important whether the printer is suitable for home or office. From simple printers to productive multifunction devices, our selection of the best printers for art prints creates high-quality documents and photos quickly. They are what will make your arts exceptional.