For movie and game lovers, projectors offer a much more realistic and cinematic experience than any TV or monitor. For business purposes, a projector can be an excellent tool for presentations – regardless of the size of the team. However, it is an indisputable fact that we all face limitations in our budgets. What do you need to know when you choose such a device? We set out in detail the main criteria to help you make the right choice of the best projectors under $100 under strict condition.

Advantages of Projectors Over Other Devices
For most of us, the term "projector" may evoke memories of the classroom when teachers used ceiling projectors with poor image quality. But technology is advancing, and even low-budget projectors are already a key component of any home entertainment. What are their advantages compared to other visual devices?
Size
This is the main reason to choose a projector! Television actors look bigger than life. Using your entire field of vision creates a completely immersive experience.
When watching a standard 37-inch TV from an average distance of 2 meters, your eyes simply do not see all the details in a 1080p image. Imagine three times zoom to 100 inches and you can see every particle, every blade of grass. And here comes the benefit of portable projectors. The larger image benefits significantly from their added resolution.
Eye relief
You may think that such a large screen can strain your eyes. The opposite is true. By using a larger percentage of your visual field and with less overall brightness, the larger screen is more convenient to watch. As in the cinemas, the picture is also more captivating.
Space and setting
Projectors can be used wherever there is a power source, a flat surface, and enough space. They are light and portable, can be taken to a friend's house for a gaming session or an evening outdoors. The TV is less flexible to pick it up and carry it to your friends!
Let's not miss the fact that the best mini projectors can be mounted on the ceiling or simply placed on a table or shelf. You don't even have to have a screen. You can project directly on a plain wall. If you want a screen – they are available in all formats and sizes. They can be hung on the wall or be retractable, as the screen disappears into the ceiling. You can also order a portable screen that you simply pull up from the stand.
The best projectors for gaming are short focused. They are perfect because they create a large image from a very short distance to the screen or wall. Gamers stand behind the projector so as not to cast shadows on the image.
Price
Projectors are generally cheaper than high-definition TVs. Buying a TV larger than 100 inches costs more than $3000 if you can find one to buy. The best projectors under 100 dollars will give you the same screen and equivalent picture quality.
Most home cinema projectors also have a built-in speaker – ideal for turning on and playing. And if you want to connect to an external audio system, you also have an audio output.
What to Look For when Buying Projectors
The projector is an independent device that projects information from various sources on the screen. The information is presented to the projector in the form of media, video cameras, flashcards, computer, TV tuner.
According to their purpose, we can distinguish LED projectors for home cinema, projectors for business (presentations and others), devices for cinemas and concert halls. They differ not only in price and size but also reproduction parameters. The former is configured to display a dynamic image, and the latter will perfectly reproduce when they are in a static position. The best cheap projectors are even capable of reproducing 3D images. Now they are used not only in the field of entertainment but also in educational institutions, business presentations, and other events.
As with the choice of any equipment, there are certain features and technical characteristics that are worth paying attention to. Let's look at each of them in more detail.
Brightness
This indicator significantly affects the quality of the final image. The transmission brightness is measured in ANSI lumens. Projectors can be divided into four types according to their number:
1000 lumens and less are the most budget models. They can be used both at home and in business centers or educational institutions. They work in rooms with total darkness;
1000-3000 lumens are the most popular models. Consumers often prefer them because the models do not require complete blackout and are in the middle price range
3000-5000 lumens – designed for large screens. Perfectly handles the transmission of images in large and brightly lit spaces;
5000-15000 lumens are the brightest and most powerful devices. Used in nightclubs, various shows, and cinemas.
Based on the presented information, it is clear that the first two options are suitable for domestic use, i.e. with a capacity of up to 2000 lumens. The best projectors under 100 are fully capable of offering even more than that and save you money.

Contrast
What is a contrast? This is the ratio of the brightness of white to the depth of black. The higher the better. The contrast is usually displayed as two numbers. The comfortable and quality level will be 1000:1 and higher.
Despite its importance, this indicator can be ignored when using the projector in a bright room. Pay attention to the contrast in the first place if you watch movies in a dark room. You can then estimate the depth of the black and, as a result, make the other colors look more natural. The black color should be black, not gray. This is achieved because the lens transmits less light, which further affects the comfort of your eyes.
Service life and price of the lamps
Consumables and replaceable parts are probably the main trap when choosing the best budget projector. Few people, buying this or that model, pay attention to the price of projector lamps – it seems insignificant. The fact is that the lamps are usually not cheap at all and sometimes it is difficult to even find them. Therefore, when making a choice, be sure to check the price of the part, its service life and where in the future it will be possible to buy a new lamp.
The average life of the lamp is about 2000 hours. This information is usually specified by the packaging manufacturer or in the instructions. But here comes another trap – during the aging of the lamp, the brightness begins to decrease after a few hundred hours. Accordingly, the image quality deteriorates. So you need to think carefully before you buy. Sometimes it is better and cheaper to buy a more expensive model and later save on the purchase of lamps due to their long life.

Resolution and ratio
Another very important indicator. The higher the resolution, the more comfortable it will be to watch a movie in your home cinema. Given the current distribution of high-quality video, the best projectors have a resolution of at least HD and even Full HD. Some new models display the image in 4K resolution.
If we take numerical data, then the minimum resolution acceptable for a modern projector should be at least 1280×800. This will allow you to watch videos with a resolution of 1280×720. However, if you want to watch a movie on a really large screen with excellent quality, it is better to look at models with a resolution of 1920×1080. You can enjoy movies in full HD resolution and  you can even view documents with very small text as well.
As for the aspect ratio, the most popular options are almost square 4:3, as well as oblong 16:9 and 16:10. The first is more convenient for working with websites and reading e-books, and the others are ideal for movies and other videos.
Focus and distance
No less important parameter that affects the ease of installing the projector in a particular room. Imagine that your room is limited in size, for example, 3 meters, and for comfortable viewing, the projector should be installed only at a distance of 5 meters. Choose a projector with short focus. It can be installed much closer to the screen, while it will have less impact on the size of the resulting frame. In such devices, the projection ratio averages 0.55:1 to 1.5:1.
Why is it important to pay attention to the length of the focus? If you make a mistake here, the frame of the image may not be rectangular or square, but in the shape of a trapezoid. This is a problem. Although most of the best projectors even under 100 have special features and mechanisms to eliminate this shortcoming, it is best to minimize the tilt of the projector when possible.
Type of installation
Often the installation of projectors requires costs and moving them is undesirable and inappropriate. If you intend to change the location, it is better to get a portable projector model. They are light and if desired they can be moved and carried. For stationary projectors, you can consider installing on a ceiling, but this solution is expensive.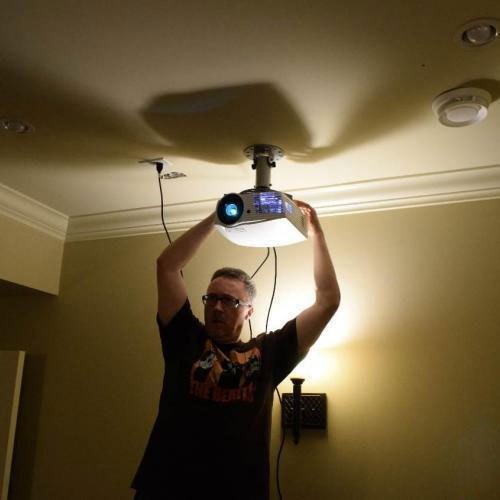 Noise and interfaces
One of the most important values, if not the only one for many – is the noise level emitted by the projector's cooling system. The more powerful the device, the higher its brightness level, the noisier its fans will be. When the projector is away from the screen and the viewer, the noise is muted. But in small rooms, the projector is closer and it's a very effective irritant. A distinctive feature of the best projectors under $100 is the low noise levels.
The interfaces that connect most projectors are standard. Most models have a composite video input, component, DVI or VGA, S-Video, and HDMI, as well as standard audio outputs and a mini-jack. The presence of USB ports is also mandatory. For many stationary models, the built-in DVD player will be a good option.
Best Projectors under $100 Review
The projectors' price range is huge. Here you need to consider not only a certain amount of money but also to compare all the features, especially if this is the purchase of your first projector. Often this is a difficult, even impossible task. That's why we've tried to make your choice easier by introducing you to our options for the best projectors under $100.
APEMAN LC350 Mini Projector
If you like the idea of ​​watching a movie on a full HD screen from a wall or ceiling, take this offer. Brilliant image quality and high contrast. They ensure that every photo and video will be displayed with optimal clarity and improved sharpness.
The LC350 supports multiple inputs, including HDMI, USB, VGA, Micro SD, and RCA AV interfaces. This means you can connect your laptop, PS4 / PS3, or smartphone as long as you have the right cable. It is also compatible with Chromecast and other streaming sticks. If you're using an iPhone, you'll need an official Apple Lightning to HDMI MFI adapter.
This 55-watt projector provides 4500 lumens of light and has a contrast ratio of 2000:1. It means that you will get a clear picture even if you are in a bright room. The maximum size of the display is 180 inches with an aspect ratio of 16: 9/4:3. You'll also get q great sound, as this projector has two speakers and a cooling system that reduces fan noise by 50%.
Many home cinema projectors at this price are not powerful enough for a true home theater experience. But it's no coincidence that the LC350 is among the best projectors under $100. It offers impressive picture and sound quality, making it ideal for watching movies.
CiBest Video Projector
CiBest is portable, shiny, and lightweight. This mini portable projector measures 7.87×5.5×2.7 inches and weighs just over 1 kilogram, making it easy to store or move around. It has 4500 lumens, which give a pretty decent picture quality even in the brightest environment. The Full HD projection combined with a 2000:1 contrast ratio and native resolution make it indispensable in home cinema and video games.
CiBest technology optimizes brightness and color saturation levels, analyzes and predicts content frame by frame. The visibility of the image with this budget projector is at optimal levels, so all dark scenes are displayed without loss of detail.
Another reason to place CiBest among the best budget projectors is the extremely low noise level of the cooling system, which is essential when organizing a home cinema. The acoustics of the model includes two built-in speakers.
The projector has a player for displaying videos, photos, and file documents from TV stick, PC, laptops, tablets, Blue-ray DVD player, SD card, USB flash drive, PS4/Xbox/Wii and media players. You can also connect it to your iPad, iPhone and Android. And together with the projector, you will get HDMI Line, remote control as well as the so important adjustable foot.
AuKing 2020 Upgraded
It is no coincidence that the AuKing Mini Projector always ranks high when it comes to the best projectors under 100. It is known for creating first-class home cinema and providing one of the most immersive views. The projector comes with a new cooling design that significantly reduces fan noise. The improved technology provides 2600 lumens and 35% better brightness than other similar projectors. Ideal for movies as well as for entertainment and games, especially for sports shows.
The use of LCD provides bright, vibrant colors and rich black. Frame interpolation enhances images and provides clear and smooth, non-truncated feature films. AuKing is aimed at people who want to have a really big screen at home to watch 3D movies, games, TV, and sports. Thanks to its 2,000:1 contrast, even the smallest details in the picture will be visible to you. And the life of the lamp is 55,000 hours!
Setting up the projector is easy. Even placed on the table or the floor, it will provide you with a perfect picture. Although it is also designed for use with a separate sound system, the integrated speakers make it easy to set up the projector.
VicTsing WiFi Projector
VicTsing is a home cinema projector offering smooth images for the best perception of movies, games, and TV shows. The use of LCD technology provides bright, accurately transmitted colors and rich black, able to satisfy even the most demanding audience. The projector has 4600 lumens and 2000:1 dynamic contrast. With its picture quality enhancement technology, it will allow you to enjoy a large screen with easy user settings. Designed for people who want a quality big screen at home at a reasonable price.
Place this cheap projector very close to the screen and you will be able to enjoy a great picture. At just 1.15 meters, you'll create a 200-inch projection that can easily reflect media from your phone, laptop, or computer. And without cables or necessary applications. Get rid of cables with easy wireless projection options provided by the included wireless adapter. At the same time, the built-in Hi-Fi speaker will take care of the perfect sound.
Enjoy crystal clear, vivid images even when using the projector in living rooms with lighting. And wherever you choose – VicTsing weighs only 0.12 pounds, so it can be with you anytime anywhere.
Vivimage Mini Projector
Vivimage is a projector that is characterized primarily by the ease of use and long life of the LED light source up to 40,000 hours. This guarantees countless evenings of movies and series without changing the lamp and additional costs. The full HD images with a maximum brightness of 3800 lumens and a contrast ratio of 2000:1 make it a suitable choice for a darkened environment.
The interface includes HDMI for connection to an HD receiver, DVD player, or other external smart devices. You can connect it to a TV Stick, PS4, VGA, TF, AV, and USB. The powerful built-in speaker completes the perfect entertainment. The short-focus lens increases mounting flexibility.
This budget projector, despite its low cost, projects clear and wide images with a diagonal of 37 to 170 inches at a distance of just over 1.5 meters from the screen. Thanks to the short-focus technology, high brightness, and the special Zoom function, it is ideal for cinema fans who will use the projector in smaller rooms. It is also a great option for small classrooms and offices.
Placing the Vivimage next to the screen is a perfect option for use with game consoles or PlayStation. This leaves enough space in the room for players to move behind the projector without casting a shadow.
Frequently Asked Questions
What is the best inexpensive projector?
There have been significant changes in the projector market in recent years. This had a positive effect on the price of the devices. Home, office, gaming projectors, learning devices, and watching videos have become more affordable. The basic requirement for their quality remains unchanged. Devices must provide a high-resolution picture, regardless of the standard and signal source.
The best quality and detail of dynamic scenes is possible for models with real 4K resolution. Such devices are already on the market, but they are still very expensive. The best inexpensive projectors offer SVGA, XGA, WXGA, and Full HD. Some of the models with the best features are CiBest, AuKing, and Vivimage.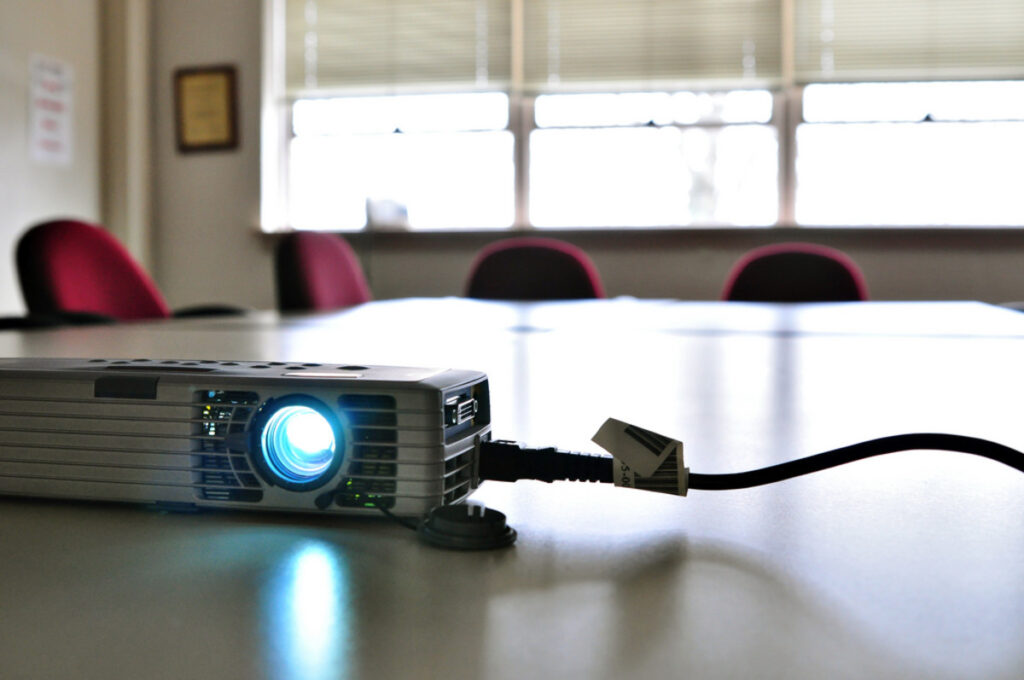 Are cheap projectors worth it?
With the advancement of technology and falling prices, even the cheapest projectors have a lot to offer. Nowadays even the cheapest projectors have LED projectors, Wi-Fi connection, Hi-Fi built-in speakers. They have become brighter and more compact. At the same time, they are compact, easy to maintain, and their lamps have up to 55,000 hours of life.
Are projectors better than TVs?
For movie and game lovers, the projector offers a much more realistic and cinematic experience than any TV or monitor. For business purposes, a projector can be an excellent tool for presentations – regardless of the size of the team. Whether you invite friends home to watch a movie or give a presentation at a company gathering or business seminar, reproducing the picture on a big screen with a projector can make an even better impression on others and achieve the desired effect.
How much is a cheap projector?
There is a huge variety of projectors on the market. Prices range from $60 to $6,000. However, before choosing a projector suitable for your needs, evaluate its characteristics – brightness, contrast, lamp life, resolution and focus.

Conclusion
To watch the best picture possible – whether you're watching a movie or a presentation – use a projector. With it, the image size can reach 4 times that of a 50-inch TV. So you can understand the detail of what you are watching, whether it is a sport, a movie, or your favorite video game.
Home cinema projectors have higher image quality and higher contrast. Black is more saturated and deep, colors are more vivid. Compensate the ambient light by choosing a projector with higher brightness and contrast. And remember – price is not always the most important, some of the best home projectors cost less than 100 dollars!