Text messaging is one of the most convenient ways of communication. It's fast, efficient and extremely easy. But the market is overflowed with different text messaging apps and it can be really hard to find the best SMS app for Android. Every phone has an existing app that, let's face it, isn't the best or most user-friendly. That's why we've reviewed some apps to help you find the best SMS app for Android. Let's get started.
How to Find the Best Text Messaging Apps for Android?
Some people might think that in a world of free messaging apps like WhatsApp, Viber, Instagram, etc. there is no need for SMS. But the fact is that personal internet access like mobile data or free wifi is available to a very small part of the world's population everyone else uses SMS texting and needs apps that have great features and offer a good user experience. This is why it's very important to find the best SMS app for Android. Depending on what you are looking for there hundreds of texting apps that can meet your needs or be a total waste of your time. Want to watch a movie on your phone? Take a look at these movie apps.
It's important to note that the best SMS app for Android has qualities that make it stand out. We will be looking at the layout, the user interface, the price, and extra features. It's important that the app is user-friendly, easy to use, supports MMS, can be customizable to your needs. The extra features are what make the app stand out. So here is a list to help you find the best SMS app for Android on the market.
Which One Is the Best SMS App for Android Community?
It's one of the most popular and best SMS app for Android. You can customize almost everything – emojis, bubbles, themes, backgrounds, notifications, and even the contacts. Besides that it allows for a dark mode, SMS blocking, mid-send delayed sending and it supports smart wear. The app is free and offers a payable pro version.
It's Google's SMS app that is pre-existing on Pixel and other phones. The layout is clean, it's simple to use and allows for RCS messaging (Rich Communication Services). This means that you can group messages, read receipts, use stickers, etc. The app has also a web version, so you can text from your computer. It is free, easy to use and looks amazing. The only negative thing is that it is very battery draining.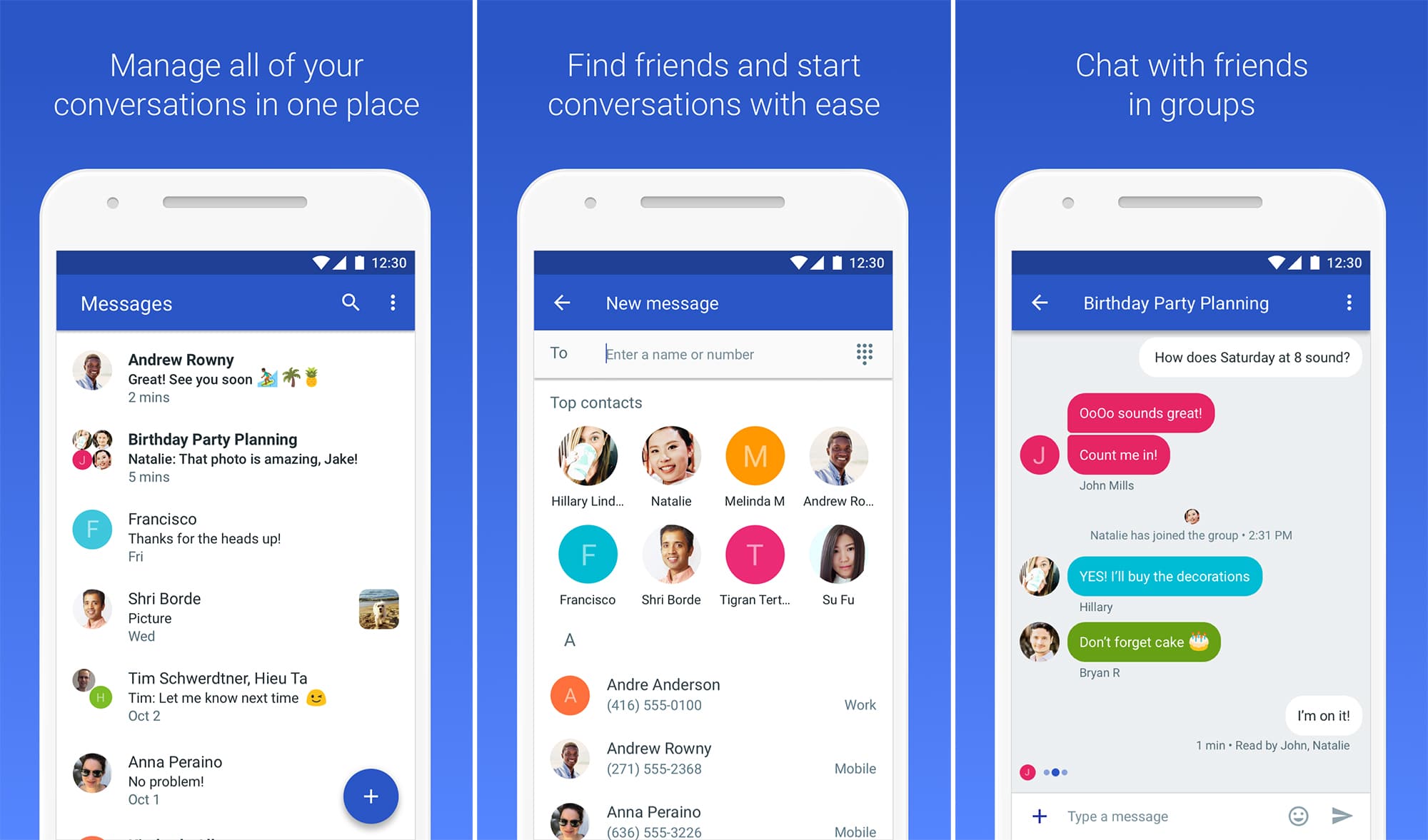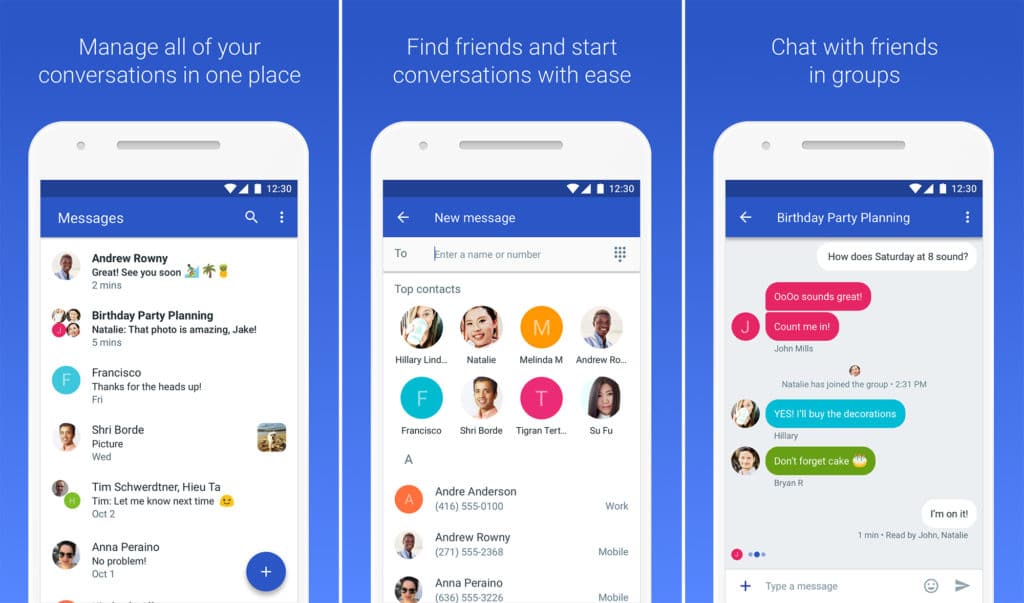 When design and customization are in question, this is the perfect app. It looks amazing, allows for theme and notifications customization. Allows for quick reply pop-ups that appear over whatever you're doing. Some features, like night mode or theme packs, need to be purchased, but most features are free.
Chomp is one of the oldest and best messaging apps. It's customizable, compliant with smart wear and free (with some optional in-app purchases). It includes features like SMS blocking, pop-up reply, MMS, emojis, group messaging. You can even stop an SMS mid sending! Chomp SMS is really one of the best SMS apps for Android.
Pulse SMS works not only on your phone but on all devices like a PC or tablet (for a monthly fee). It allows for backup and number blocking. It is customizable and has dual sim support. The texting part of the app for your phone is completely free.
This is one of the newest apps that keeps it simple and has all of the necessary features. These include texting, MMS, themes, emojis, etc. Extra features include a dark theme and SMS blocking. The basic version is completely free. The app offers a premium version that is kind of pricey but offers an amazing experience and features like privacy locker, backup and restores, SMS encryption, etc.
It's one of the oldest SMS apps for Android that has stayed up with the development of new technologies. It has a lot of amazing features and settings like a private box for private conversations, emojis, SMS blocking, etc. You can also use it to send text messages from your computer or tablet. It is free, with some in-app purchases.
What makes this app stand out, besides its amazing looks and user-friendliness is the scheduled messaging feature. You can also backup conversations, auto-respond and blacklist numbers. For the most part, it is free but it includes some in-app purchases.
This is definitely one of the best-looking apps for messaging. It is also one of the fastest ones and it is very lightweight. It supports smart wear. It's completely free and open source which adds to the list of things that are great about this app.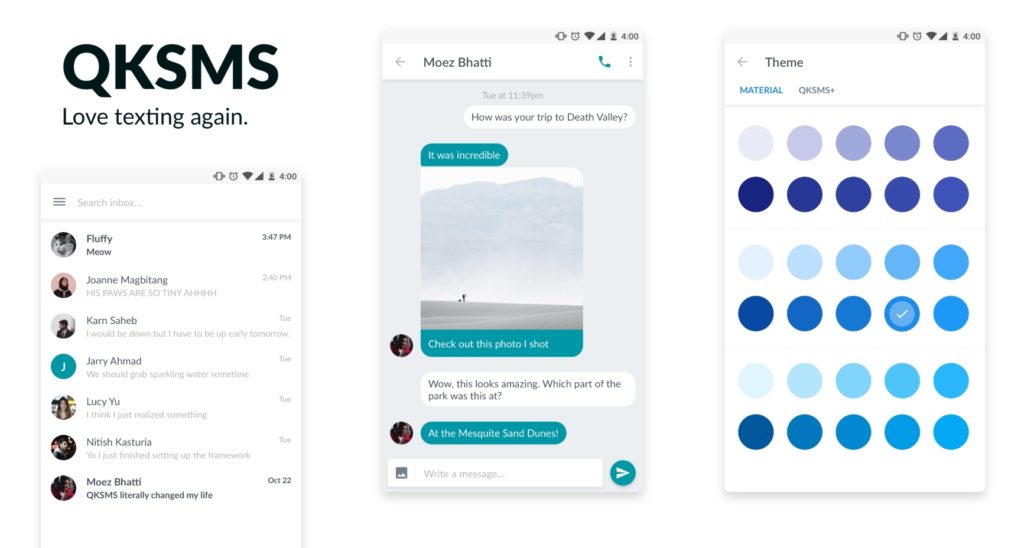 We know that a lot of people don't like Facebook, but Facebook Messenger is a very practical way to have all of your conversations in one app. The app has a built-in SMS option that has the same features as the app. This is not a good option if you're not a Facebook user, but a very practical one if you are one.