Since 2013 when Clash of Clans was released for Android and iOS platforms, Clash of Clans is one of the most popular kingdom-building games. The gameplay in COC is simple, you need to build a kingdom and make sure to defend it against online competition. You also need to prepare your armies to attack opponents for loot. And like any other game, eventually, you'll get sick and start looking for newer games. So if you are one of those people who are searching for something similar to Clash of Clans, you've come to the right place. We are going to share with you the 5 most rated games like clash of clans you might find interesting and addictive to play.
Most Rated Games like Clash of Clans
After reading tons of debates in the context of which game is better, Castle Clash or Clash of Clans, this game surly belongs to the list of the most rated games like clash of clans. It is loaded with exciting combat and fast-paced strategy. Player's task is to hire powerful heroes to lead their armies of mythical creatures.
It has a good advantage that this game is available in French, German, Spanish and other languages. Make sure to build a strong fortress to defend your castle and smash online opponents. It's free-to-play as long as you don't mind a few ads. Check these: Shooting Games for Android Audience
From the creators of COC, Boom Beach is another kingdom building game. The main objective to all the players is to build a base along a beach. Your enemies need to get through the beach to take down your kingdom. It comes with decent graphics and interesting gameplay.
Player's are able o play with millions of other player and raid tons of enemy bases for loot. In addition, you can join other players to create an unstoppable Task Force to take on co-op missions. This game is free to download with no ads included. There are some optional in-app purchases, though. Play more: Android Horror Games
Loved by millions of users worldwide, Lords Mobile is another game that deserves a place in the collection of the most rated games like clash of clans. Lords Mobile is a real-time strategy mobile game that comes with excellent graphics and stunning gameplay.
The game introduces a few RPG elements as you level up your heroes. And like most of these games, in the game players can join other players in order to get or give help when needed. The game is free to download, no ads included and some optional in-app purchases.

The game is in a world where freedom, power, fear and violence reign supreme. Your job is to become a leader of a huge army and lead your troops to victory. This will help you prove that you are the mightiest conqueror among a million users. It comes with excellent graphics, many different troop classes, weapons and gear grafting, and much more.
The best part is that this game is free to download that comes with no ads whatsoever. There are some in-app purchases which are completely optional. Read also: Strategy Games for Android Audience
This is another game where players need to build their kingdom as powerful as possible. You need to build your base, recruit and train your army and then lead your troops to victory. It comes with decent graphics and you also have the option to choose to fight for the Rebellion or the Empire.
It has interesting addictive gameplay. Like most of these games you can team up with friends and allies to form the unstoppable squat. It is another free-to-play game as long as you don't mind a few ads.

So if you were looking to get some similar action you get while playing Clash of Clans, our team has listed the top games like clash of clans. Read a little about them, choose your game and start playing. If you think we've missed some game that belongs to this list, please drop a comment below or contact us.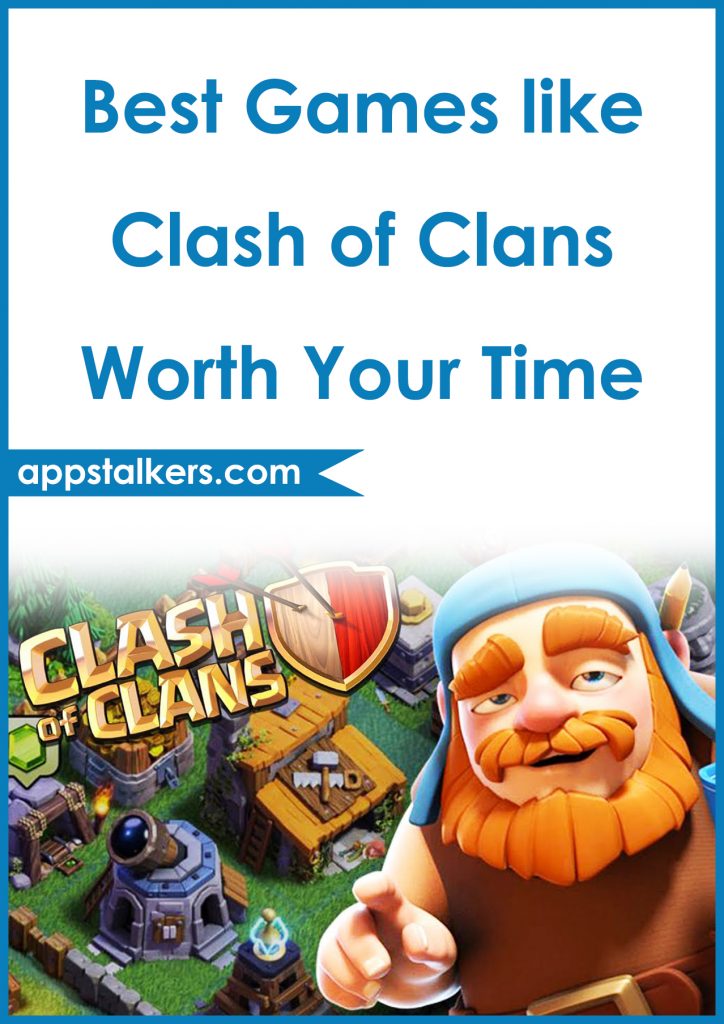 [the_ad id='277′]