Using your phone or tablet for taking notes is probably the fastest and most efficient way for you to stay on top of things. Whether it's in a lecture, in the store or while watching a cooking show your device is always there with you. But for note taking to become an amazing experience that will really make your everyday life easier you need a great note taking app. There are tons and tons of apps out there to choose from so it can be kind of a frustrating process. This is why we've created a few suggestions for you to consider when choosing the top note taking app. 
Top Note Taking App for Your Phone:
One note is probably the top note taking app. The user interface actually looks like a notepad and you can insert pictures, boxes, doodle over the pages. It even allows you to record videos and include them in your notes. You can also include Microsoft Office files in the notes. The app allows you to "handwrite" using a stylus and even scan and convert handwritten notes. OneNote has a very good search feature that lets you find information across all of your notes. On top of all that it is free. What more do you need from the top note taking app for Android and iOS?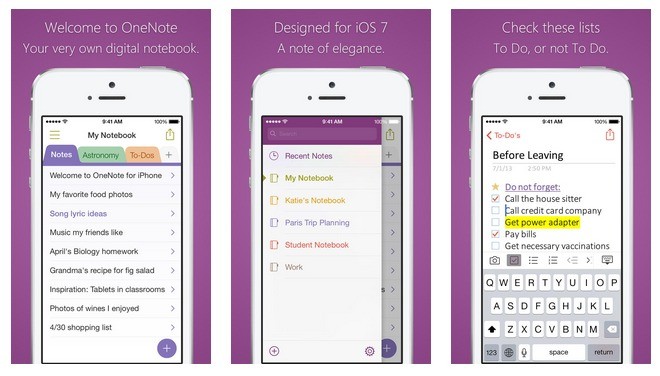 Evernote is probably the top note taking app for students and people who like to be organized at work. It has amazing functionality and lets users save web pages for offline use including images and PDFs. The other amazing thing about Evernote is that you can access your notes from your computer, phone, tablet, and web browser. Next, you can create presentations from your notes, merge notes, and set reminders so you don't miss any deadlines.
The basic version of Evernote is completely free, but there is also a paid Evernote Business version that costs $14.99. This version of the app integrates with Slack, Outlook, Microsoft Teams, Google Drive and Salesforce whereas the free version doesn't. You can also check out our list of the best reminder apps for Android.
Ulysses is the top note taking app for iPad and other Apple products. Note taking is fun and you can use lots of colors to make your notes pop. You can embed images in the notes and they are all saved on the iCloud and you can export them in PDF, HTML, Word, like ebooks, etc. This app is iOS only and it's not free, you can pay $4.99 a month or $39.99 a year to use this amazing app.
Bear is a great note taking app for Apple devices. The interface is made out of three panes that allow you to organize the notes with hashtags and make subfolders. It has an advanced Markup editor, so you can easily insert links and pictures into documents. Bear has a special feature, a focus mode that helps users concentrate.   For the most part, it's free, but you can purchase a pro-version for $1.49 a month or $14.99 a year.
This is definitely a very simple to use free app. It sort of like a post-it note pad. You are able to organize your notes by label, color, importance. You can pin important notes to the top of the app for quick access. Reminders can be set and you can even share the notes with your collaborators. The design of the app is very minimal and the features are pretty basic, but it works perfectly. The notes can be copied to Google Docs and turned into documents. It's available both for iOS and Android.