People are busier now than before. That's maybe because we live in a world that's loaded with distractions and shiny things. Or, maybe it's because we live in a more sophisticated world filled with buildings, cars, buses, etc. And that results in having a "faster" life. That faster life can often lead us off track and forget what we are supposed to do. However, thanks to technology, remembering things is now easier. Not only setting reminders can be productive, but also very effective for some things.
In this article, we are going to talk about reminder apps. After trying tons of reminders, we've come up with a list of the top reminder apps for Android. That being said, let's take a closer look at the best Android reminder apps and help you choose one.
Top Reminder Apps for Android Phones
With a rating of 4.5, Any.do surely deserves a place on the list of the best Android reminder apps. However, the stars aren't the only thing why this app is on this list. It's an awesome free calendar, to-do list, and reminder app.
Users use this app to add tasks, set reminders, plan their day, and create smart lists. Apps like Any.do are more useful for things such as remembering to buy milk than a calendar app. In addition, you can color label to-do's to set categories and priorities, organize tasks under lists and add levels with subtasks. With Any.do you can plan your day in seconds.
The app is free to download, however, there are certain features that can be only used by premium members. The best part is that even the free version comes ad-free. Related: Best Applock for Android
The name explains the app. It's a simple to-do list app that can be used for everyday use. Using this app you will be better organized for many things. It's a simple, yet powerful app.
It features friendly UI task management which makes it easy and perfect for use. You can group tasks in handy task lists. In addition, you have screen widgets to remind you what you need to do. Also, this simple app carries the ability to add new tasks via voice.
Users can also set to get notifications in order to be reminded of something they need to do. This reminder app is free to use as long as you don't mind a few ads.

With more than 100 million downloads worldwide, Google Keep surely belongs to the list of the top reminder apps for Android. Developed by Google, it's a reminder app that can simply do anything. According to many reviews, this app may be the best note-taking app available right now.
Users can add notes, lists, and photos to this app. If you are one of those people who are too busy with writing, don't worry. You can record a voice and this app will transcribe it so you can look it up later. Users can easily plan a surprise party with the option of sharing their notes with others and collaborating on them in real-time.
In addition, it comes with a clean and well-organized UI, which makes it perfect for use. The best part about this app is that it's entirely free to use for anyone. Are you a regular movie watcher? Then check these free movie apps for Android and iPhone!
TickTack is another amazing reminder app that's loved by millions of users.  TickTack is considered to be one of the top reminder apps for Android because of many reasons.
It's a simple and effective to-do list and task manager app that helps users to create a schedule, manage time, remind them about deadlines, and much more. It features a clean and easy-to-use interface which makes it perfect. In this app, you can add reminders and tasks in seconds and then continue your work.
In addition, it comes with a sync option so all your goals will be synced within the cloud so you can view and manage them later. You can also add reminders or tasks with voice recording. TickTack is here to send you notifications for important tasks to never miss any important thing. It's a free-to-use app with no ads included.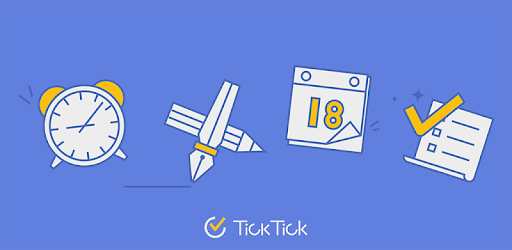 Another excellent reminder app that takes a place in the list of the best Android reminder apps is GTasks. It's a simple, yet effective to do and task management app with Google sync.
Users can set reminders, organize a to-do list, send tasks to friends or family, and sync with their Google Tasks perfectly. It has tons of satisfied users and millions of downloads. It features ICS (Ice-Cream Sandwich) style with bulk indent, set due date, delete,s, and much more.
In addition, GTasks sorts your tasks by name, created time and priority so in that way you won't miss any important stuff. It's one of the unique reminder apps on the google play store. It's free to use as long as you don't mind a few ads.
You can buy the pro version which will not only remove the ads but also unlock some other options. The pro version can be bought for $4.99. Check more: Best Planner App for iPhone and Android
For all those people looking for the perfect reminder app, we've shared this awesome article. Please keep in mind that this list isn't in order of which app is the best one. It's simply a collection of the top reminder apps for Android.
If you think we've missed some app that belongs to this list, please drop a comment below or contact us.