Android users suffer from low disk space all the time. Blame those social apps, gaming apps, images, videos, or junk files, but it's a real problem that android users deal with on a daily basis. You delete some apps, but a few days later you again get the alert 'insufficient space'. How to empty trash on android phones so to avoid the issue?
Users prefer to clear junk files so they don't have to delete important images or apps to create additional space. But unlike Windows or Mac computers, android devices do not have a trash folder. It doesn't have a trash folder that is common to all apps on the device.
However, some apps have their own trash folders that you may empty to create more free space. What are these apps and how to empty the trash for those apps? Let's find out.

How To Empty Trash on Android
Since there is no dedicated folder to collect trash files from everywhere, what you can do is clear junk files associated with certain apps. Another thing you can do is clear all the cache data on your Android device. Here are some of the commonly used apps that have a trash folder.
Gmail
So, Gmail is one of those apps that keep all the deleted emails in a trash/bin folder for 30 days before permanently deleting them. Since Gmail is used quite a lot by most Android users, it could have plenty of junk files. Follow these steps to empty trash from the Gmail bin folder.
Open the Gmail app on your Android device.
Tap on the hamburger icon located in the top left corner.
A list of items will be visible on the left. Select 'Bin'.
Select all the emails in this folder and tap on the delete icons above the mails.
Alternatively, you can click on the 'Empty Bin now' button to delete all the junk files at once.
Google Photos
Since this is a native app developed for Android devices by Google, it could also be responsible for keeping a lot of trash files on your phone. Whenever you delete a photo on this app, it goes to the trash folder. Here are the steps to delete all the junk files associated with this app,
Launch the app and click on the hamburger icon to open the side menu.
Select 'Trash' from the list of folders.
You will see all the deleted pictures in this folder.
Select the photos that you want to permanently delete. Tap the delete icon.
Recycle Bin App
Android phones do not have a recycle bin app or a trash folder by default, like Windows. But many Android users have installed the third-party recycle bin app to restore or recover files that they have deleted. If you have one of these apps and you want to know how to empty trash on Android, you can use this app to delete all the junk files. Find more: Best Recycle Bin Apps for Android Phones
Launch the Recycle Bin app on your phone.
Access the local file system or the SD card.
Select the junk files to delete permanently.
Tap on the delete/trash button.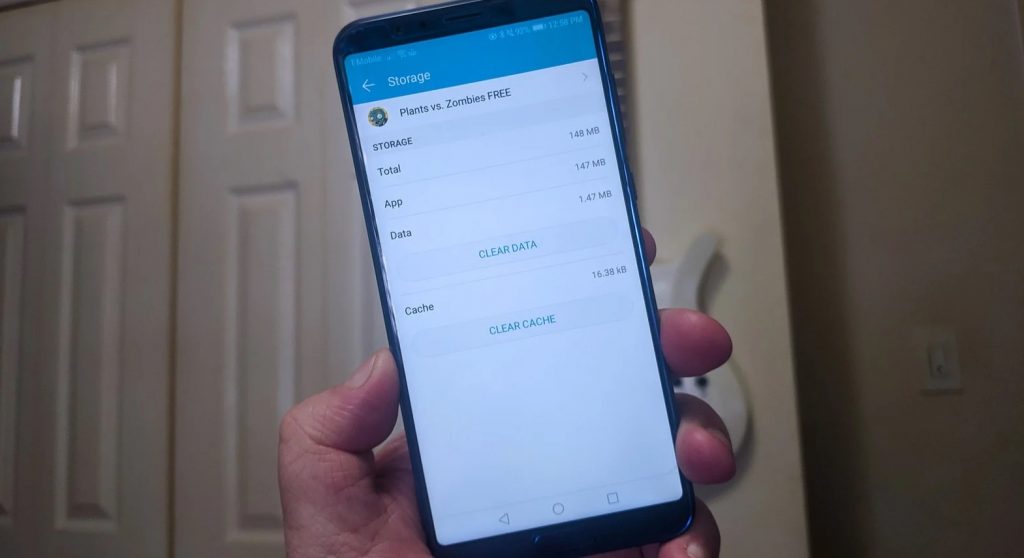 How To Clear Cache Data on Android
If you want to find out how to empty trash on Android, you should also consider clearing the cache data to free up some more space. Of course, cache data serves a purpose, but if you don't clear it, it will pile up over time and consume a lot of storage. So, besides emptying trash for your apps, you should also clear all the cache data once in a while.
Go to your device's storage settings.
Find the 'Clean now' button.
Click on the button to delete cache data for all the apps on your device.
If you want to just delete cache for selected apps, follow these steps instead.
Go to Settings.
Tap on 'Apps' to open a list of all apps installed.
Tap on the app you want to clear cache for.
Now tap on storage.
You will find the 'Clear cache' button. Tap on it to empty the cache for that app.
Conclusion
Although Android phones do not have a trash folder, you can individually access the trash folder for each app. So if you want to learn how to empty trash on Android, you can do so only by knowing the steps to delete the junk files for apps that you use the most.
There are just a few apps that story the majority of junk files on your device. So, if you want to free storage space without having to delete your favorite apps on the phone, the best way is to empty trash folders on Android. We also recommend clearing all the cache files on the phone to create additional free space.