Instagram plays a great role in people's lives nowadays. People use it to share information about their personal lives, from different countries they visited with friends, trying different foods to products they want to sell. A huge amount of our time we spend on Instagram. You can easily get the information about anything you want. Bloggers use it to upload more interesting content. Businessmen use it to attract more potential customers. Instagram stories benefit a lot of people. It became easier since there is the option to add multiple photos to Instagram stories so, let's learn how to add more than one photo to the Instagram story.

How to Add More Than One Photo to the Instagram Story
When you want to share something on Instagram, you consider the content to be something interesting, to give general information about some topic and you have to consider the interest of the people reviewing it.
So, firstly, you choose the pictures that you want to put together. It should make a collage. It can be a trip you went to, an interesting place, a product you want to sell etc.
You tap the camera icon so that you can open your stories.

Then you tap the photo icon at the bottom of the screen.

Then you choose the multiple photo icon, located just above the photo gallery.

Once you have chosen the pictures that you want to be in the story, you tap next. You can add up to 10 pictures in one story.

After that, you can edit the pictures adding music, stickers and text. Then you tap next.

And finally, you tap on a story to put your photos in order and share them.
You should consider what kind of pictures and how many you're posting. That is of great importance for the viewers. It can increase or decrease the number of followers, and also depends on what kind of content you want to present.
Why would you add multiple pictures on your Instagram story? Let's say you went skiing on the Alps in Switzerland. You want to make a beautiful collage of pictures of the adventure in the mountains. The pictures should be cohesive and aesthetically pleasing.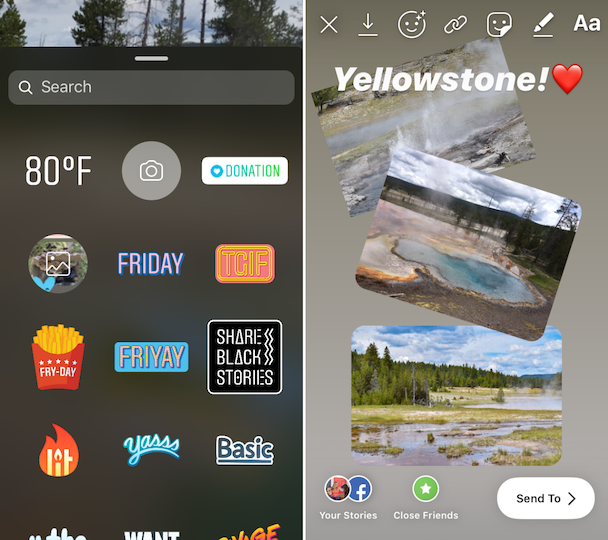 Another Way to Add More Than One Photo to the Instagram Story
Open the photos app in your phone

Select multiple photos to add them as separate slides to your story. Select a single image if you wish to add multiple images. 

Click on the Share button and then select Instagram stories.

The selected picture will appear on the storyboard.

Click on the picture to adjust the image.

To add more than one photo to the slide, click the sticker icon on the Top bar and choose from the photo stickers.

Select the second image and adjust it to fit with the previous one.

Click on the "Next" button once you have added everything to the slide.

Click on "Send" to post the image as your story.