There are only two smartphone operating systems on the market: Android and iOS. Both have a different approach when it comes to designing their interface. iOS is all about simplicity and making things easy to use. Whereas Android focuses on customization and versatility.
One of the most appealing aspects of Android has always been its ability to be customized. In contrast to iOS, Android allows you to customize your device in a variety of ways. If you don't like your Android phone's default icons and want to change them, it's simple to do so.
Today we'll brief you about how to change icons on Android without launcher. You'll need to download a third-party app to accomplish this. Here's a list of apps that can change the icons of all Android apps without using a launcher.

How To Change Icons on Android Without Launcher
We've got four apps for you that will allow you to change the icons of your apps without having to install any launchers. None of these applications necessitate root access.
Awesome Icons was launched by Momo Apps. It allows you to change the icons of your apps on your phone's home screen. It even allows you to choose an icon from your gallery. This app is very useful if your phone is running on a custom skin like Color OS or FunTouch OS that does not have the app drawer functionality built-in, as this app does not support changing icons from the app drawer.
Awesome Apps can be downloaded and installed from the Google Play Store.
Run the app after it has finished installing.
Tap the app whose icon you want to change from the list of all apps installed on your device.
Select your preferred icon now. It could be an icon, from icon packs to a photograph you've taken.
Tap OK once you've completed the previous step. The shortcut to the app will appear on your home screen as a new icon.
Another great icon changer is X Icon Changer. Aster Play created it, and it has a 4.6-star rating and 6K reviews on Amazon.
Simply download and install this 5.2MB app from the Play Store to change your Android icons. Icons from the Camera or Gallery can also be submitted. It's that basic.
Install the icon changer app on your device.
To begin, open the app.
You'll see a list of apps whose icons you want to change.
This app allows you to change icons without having to use a launcher right away.
You'll only notice now that you can change icons to ones that have already been created.
By selecting Gallery or Camera from the + button on the left, you can change the icons to your liking.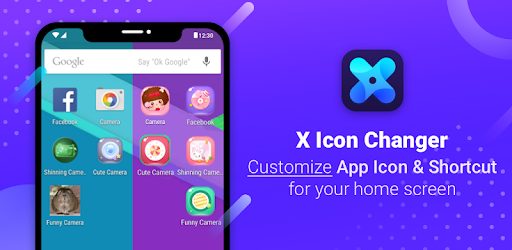 Another app, Icon Changer by Juyeong, allows you to change app icons by replacing the original icons on your home screen with the desired icon. It's also free, as the name implies. It's almost identical to Awesome Icons in terms of functionality.
Icon Changer is a free Android app that you can download and install from the Google Play Store.
Start the app and select the app whose icon you want to change.
Choose a new icon. It can be an icon from any icon pack or a photo from your computer's gallery. You can even decorate your new icons by applying filters to them.
When you're finished, tap "OK" to save the shortcut to your desktop.
Neon is yet another icon-changing application. It's vibrant and flashy. As of the writing of this article, it has a 4.1-star rating with 618 reviews. On Android, you can change icons without using a launcher, and you don't even have to choose which launcher you want to use.
First, get the Neon Icon Changer and install it.
Start the app.
You'll have the option of selecting ready-made icons or customizing icons.
To change the app icon on Android without using a launcher, simply slide to the right or left.
After you've chosen the app, you can choose the icon you want to use.
Not only can you change the icons, but you can also change the app's name.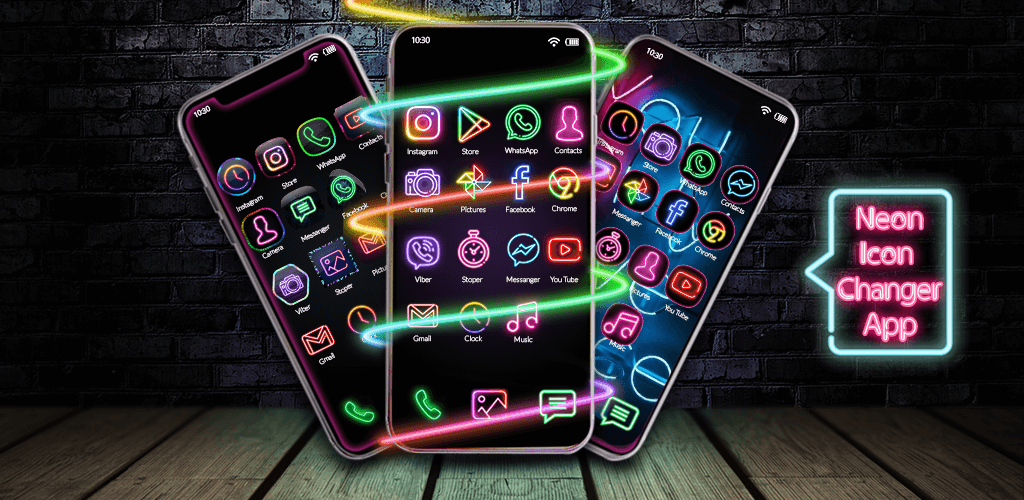 Beautiful Icon Styler can give your phone a new and appealing appearance. This app is a complete icon package that allows you to customize your icons to your liking. You can choose from our default icon set or a photo icon from the gallery to replace the default icon.
Open the application.
Slide your finger left until you see the option to "Get Free Icons".
Look through the options and pick something you like.
You'll need to go to Google Play and download each of the packages you want using the "Get It" button.
Apply the package you selected.
Conclusion
These are the simplest solutions if you ask yourself how to change icons on Android without launcher without giving up your stock user interface. I hope this article accomplishes what it sets out to do.