A lot of people prefer 4k projectors despite their higher costs. These high-resolution projectors are perfect for home-theatre setups, gaming, or even professional presentations. But is it possible to find a reliable, great quality 4k projector in your budget? To find the best 4k projector under $1000 we have reviewed some top of the line models.
Besides high-resolution, there are several other factors to consider before you make your final purchase. Is it a true 4k display? How does it render fast games? Is it suitable for your room size?  What devices can it connect with? There are a number of key factors that tell you the true value of a projector.
This review is aimed at finding the highest value for money you can get when buying the best 4k projector under $1000. You need to be absolutely clear about where you would use it and what kind of content you would stream on it, so you can get the maximum value for your investment.
Factors to Consider When Buying 4k Projector
Brightness
Unless you have decided to use your projector in a totally dark room, you should look for a high lumen value for your projector. A higher lumen rating means a brighter display. So, for projectors with low lumen value, you will need to use blinds and window covers to render the room completely dark.
A higher value is should be preferred when you want the picture to be bright enough to be visible outdoors or in a room with some light leaking through the windows. So if you are planning to use your projector in a lit area, then you should definitely invest in a projector with at least 3000 lumens.
A very high lumen rating could be unsuitable for very dark rooms. If you want to use your projector in a home theatre setting with no lights at all, excessive brightness could hurt your eyes. So, a value of, let's say, 7000 lumens could be uncomfortable in a pitch dark room.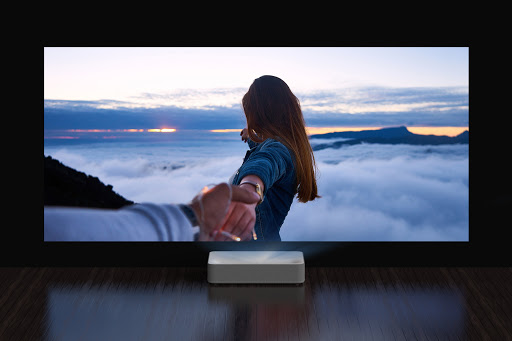 Throw Distance – Long or Short?
You cannot change the size of your room to make it compatible with your projector. What you can do is to choose a projector suitable for your room size. Throw distance tells you how far you can place the screen to project a clear image.
A short throw distance is ideal for small rooms and big screens. But if you want to place the screen at larger distances, you should go with a long throw distance. As a general rule, unless you plan to use the projector in a small-sized room, always go with longer throw distances for a projector.
Display Adjustment
Features like keystone correction and lens shift are very handy while setting up your projector. It would take less time to perfectly align the image when you first set up your projector or relocate it.
So, the first time you install your projector to cast the image on a screen, you will need to move the angle of the ceiling mount or use the adjustment feet to ensure that the image falls where it should. To make it easier, keystone correction and lens shift will fix the image so you get a centered image and a rectangular projection.
These features save time when you have to quickly set up your projector for a business meeting or a movie night! So, if your projector is not perfectly perpendicular to the screen, of it the center of the image is slightly misplaced, keystone and lens shift would quickly fix the issue.
DLP vs. LCD
Both types of projectors have their own pros and cons. While DLP is pricier, it is preferred for its smoother video, higher contrast, and greater saturation. These are also preferred for watching 3D videos. Though, one of the drawbacks of DLP technology is the rainbow effect that might appear on the screen. You will see splattered colors
LCD projects are a more economical option and also don't suffer the rainbow effect. But image pixelation is more visible on this type of projectors. LCD is also more energy-efficient. It will produce a brighter image for the same lamp wattage.
Having discussed the pros and cons of both these technologies, you should know that the latest DLP or LCD models would have fewer issues as the cons are being worked on to eliminate any quality issues. For instance, the rainbow effect is now a rare occurrence on the newer models.
Lamp Life
Lamp life is what determines how long your projector will last. In another words, it tells you how durable your projector will be. The lamp in a projector is the most important as well as the costliest part of a projector. The minimum life of a lamp should be at least 10,000+ hours.
You can expect about a year's warranty on the projector lamps. This warranty is usually separate from the warranty offered on other parts and is generally shorter.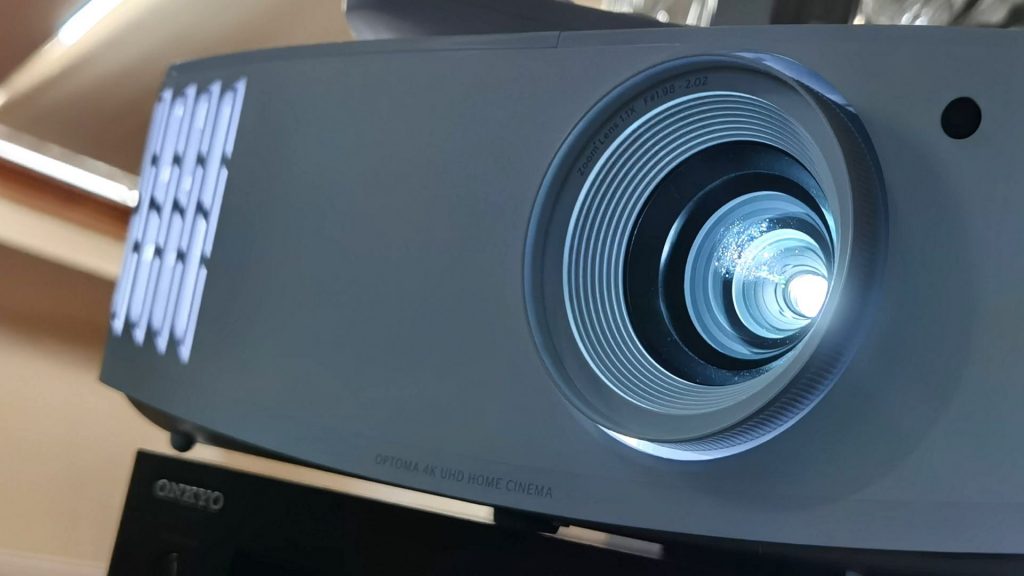 Contrast Ratio
This is essentially the difference between the highest and the lowest brightness a projector can display. Choosing the right contrast ratio for your projector should be based on the ambient light conditions of the environment.
So, to project in an area with high ambient light, you should go with a lower contrast ratio value and for a darker environment choose one with a higher contrast ratio value. Projectors with a low contrast ratio are more economical, but remember that you will probably see 'a gray rectangle outline' when using them in a dark room.
Also, don't confuse 'contrast ratio' with another term 'aspect ratio'. Aspect ratio doesn't say anything about the brightness; it refers to the ratio of the width and height of an image or a screen.
Sound
Most people forget about the sound while focusing too much on the display. To watch a good movie or play an intense game, you would need decent in-built speakers in your projector. The average wattage for these projector speakers can be between 2w to 8w but you should go with a higher value for a better experience.
If you find the in-built speakers incapable of a loud enough sound, you can connect an external speaker with your setup. So, if you have an audio output provided with your projector, all you need is a '3.5 mm to RCA cable' to connect an external speaker with your projector.  But if you don't have that option, there are several other ways to connect a speaker.
HDR
HDR stands for High Dynamic Range and is a revolutionary step in display technology. A projector that supports HDR will have a much brighter, more vibrant, and highly detailed picture projected on the screen.
HDR takes your display beyond the prior limitations and allows the color range to reach further extremes. The vivid objects aren't saturated but more shades are displayed. HDR-compatible displays are capable of showing deeper and more vivid reds, greens, and blues. These can also display more shades between the colors.
Best 4K Projectors under $1000 Review
BenQ TK800M 4K UHD
This BenQ product is tailored to match your expectations for a home-entertainment projector. It has balanced specs in all areas but exceeds in some aspects like display quality, auto-adjustment, etc.
The brightness is optimum for gaming or watching movies even in a dark or moderately lit room. The color accuracy is impressive and the HDR support makes it ideal for your home-theatre setup. The DLP technology enables it to display a non-pixelated picture and is also suitable for 3-D movies.
This is often bought by those looking for an easy to install, high-image quality 4k projector that would work flawlessly in medium ambient lighting. So, if you want to play games in 4k or enjoy watching a 3D movie BenQ TK800M would be an ideal 45 projector. Also, its long lamp life of 15,000 hours should make you feel easy about its durability.
ViewSonic PX727-4K
This is another projector that shouldn't skip your attention. If you want the amazing experience of watching an HD movie on a very large screen with realistic colors, this one projector could provide that quite well. So, who is this best suited for?
It's excellent for use as a home-theatre projector. The picture quality is enhanced by its HDR content support and the REC 7.9, and REC 2020 compatibility ensures lifelike colors. The 10W in-built speakers produce room-filling sounds. It creates an immersive multimedia experience for your home.
The true 4K UHD resolution projected on a 300 inches display sounds pretty exciting for gamers and movie buffs. It's now an easy thing to achieve with this affordable 4k projector. The Dual HDMI connectivity allows you to connect all sorts of devices like gaming consoles, laptop PCs, cameras, and Blu-ray players, etc.
Since it's meant to be used in darker environments, the backlit remote control that comes with this projector is quite handy. The projector has a lamp life of 15000 hours with 1 year of warranty coverage on the lamp and 3-year on parts.
Optoma UHD30 True 4K UHD
This next one is highly recommended if you are looking for a 4K gaming projector. The high refresh rate and low input lag make it suitable for a lot of different purposes but ideal for gaming.
It's true 4k Ultra HD display and HDR support makes it a great option for your home-theatre setup or to enjoy a smooth, lag-free gaming experience on a large screen. The picture sharpness and the color range are truly impressive and give you the actual theatre feel.
However, what distinguishes this from other 4K projectors is its extremely low input latency. If you have ever wanted to play high-resolution games on a large screen, this projector offers the best possible experience. It offers reflected light for reduced eye-strain. This allows you to keep entertained for long hours.
It has a lumen value of 3,400 and a contrast ratio of 5000,000:1.  The display is detailed as well as bright enough for your room during the day and the outdoors during the night. The lamp life of 15,000 hours ensures that this lasts long enough to provide full value for the money invested.
Frequently Asked Questions
What's an ideal lumen value for home use?
There is no ideal lumen value as such. It would depend on the ambient light conditions in your room. But, typically, a lumen rating of around 3000 works well in most environments. You can go for a higher value if you wish to use it outdoors. Even a lower value would work if the blinds and windows in your room render it completely dark.
Can I watch Netflix or Prime on a projector?
Well, sure you can. Most of the modern projectors come with USB or HDMI ports allowing you to connect streaming devices like Chromecast and Amazon Firestick. If you don't have a streaming device, you can directly project your smartphone or laptop screen and access your Netflix, Prime, and even YouTube videos and movies.
What would be the best projector for home cinema?
Projectors with high-resolution and HDR compatibility are excellent for home-cinema use. The lifelike colors of HDR content and the 4K display would definitely help create the cinema experience at your home. For smaller sized rooms, you must go with a shorter throw distance if you want to project on larger screen sizes.
The BenQ TK800M and ViewSonic PX727 are 4k projectors with excellent image quality and good contrast. You can easily set up these projectors for your home cinema. These have all the ports needed to connect other devices to project content from.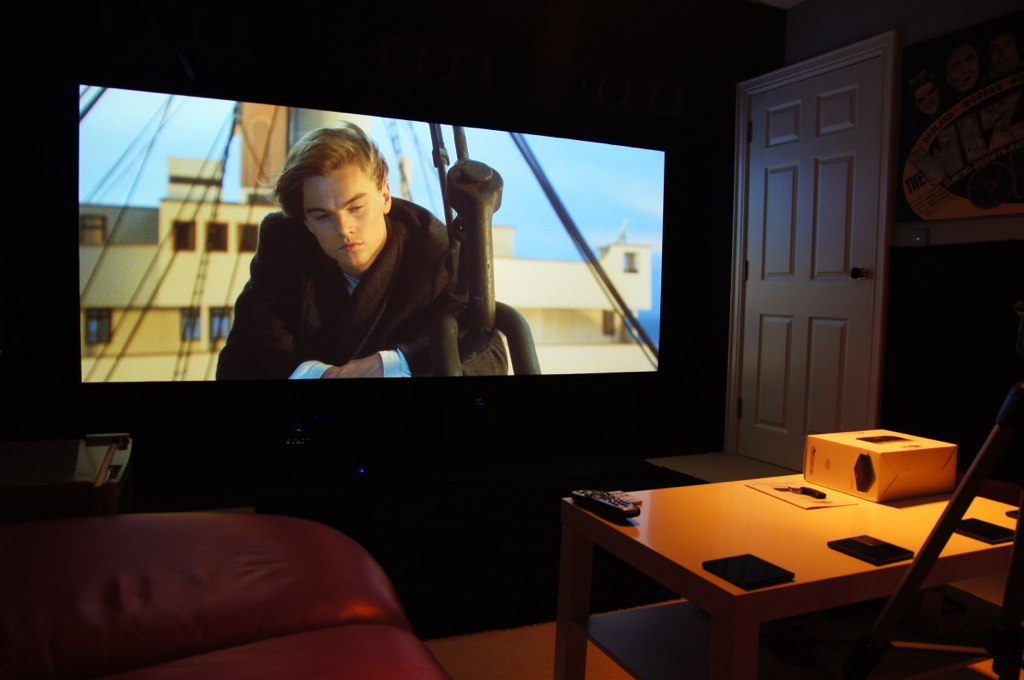 What is true 4K technology?
The true 4K technology delivers around 3840 x 2160- pixel resolutions. As a result, each and every detail in the picture would be much more pronounced.  It has about 4 times the pixels of a Full HD display. A true 4K display should have 8.3 million distinct pixels.
On the other hand, some unreliable products generate duplicates of a given frame to double the 1920*1080 image pixels. As a result, the display would only have 4.1 million actual pixels. The best 4k projector under $1000 should have the full range of 8.3 million pixels.
Is the DLP projector better than 3LCD?
DLP projectors do have certain advantages over LCD projectors. These produce much sharper, high-quality projections with more pixels to project. These projectors do not suffer from the pixelation effect that is often noticeable on LCD projectors. However, these tend to be more expensive than LCD projectors.
Conclusion
We understand your desire for a 4k projector. These are capable of displaying an extremely high number of distinct pixels, thus providing an impressive picture quality even when viewed on a significantly larger screen. You can enjoy a crystal clear display while watching movies or playing games on a large-sized display.
We have listed some of the top projectors with cutting-edge technology for you. These support HDR display and can produce a much wider range of colors making an image more realistic than earlier technologies could.
We have compiled a list of top projectors based on all the relevant factors that really matter for a buyer. Our buying guide should definitely help you find the best 4k projector under $1000.