Doing 3D models becomes a nightmare when you have to do it with a mouse that isn't suited for that kind of task. For such a delicate endeavor, one should have the best equipment and be able to work with the utmost comfort. With that in mind, we felt it was our duty to find the best wireless mouse for 3D modeling. In the process, we also found some great wired alternatives for those who don't mind having cords laying around.
In the modern era, we humans have come really far when it comes to making things easier for ourselves. Usually, we achieve that goal by developing better tools to give us more comfort, precision, and efficiency. Our mice couldn't be the exception. 
If you do 3D modeling and don't own a proper mouse, let me tell you, you're missing out on a lot. Once you try one of the ones we found, you won't be able to go back to a regular mouse.
Different Types of Mouse
In this section, we'll discuss what's the difference between the most common types of mice you'll find in stores. We're going to separate them depending on the way they detect movement and how they connect to the computer. They are:
Trackball mouse
This kind of mouse tracked movement using a sphere rolling inside a cavity in the device. The ball will be attached to a set of sensors that register the direction and amount of movement being done. They used to have a lower movement resolution and a poor performance overall.
Optical mouse
Trackball mice were soon enough replaced by the optical ones. Movement detection is done by the interaction made by two things: a light emitter and a light receptor. A light beam is sent to the displacing surface and the movement is recorded depending on the way the light reflects from the surface into the receptor. There are wired and wireless ones.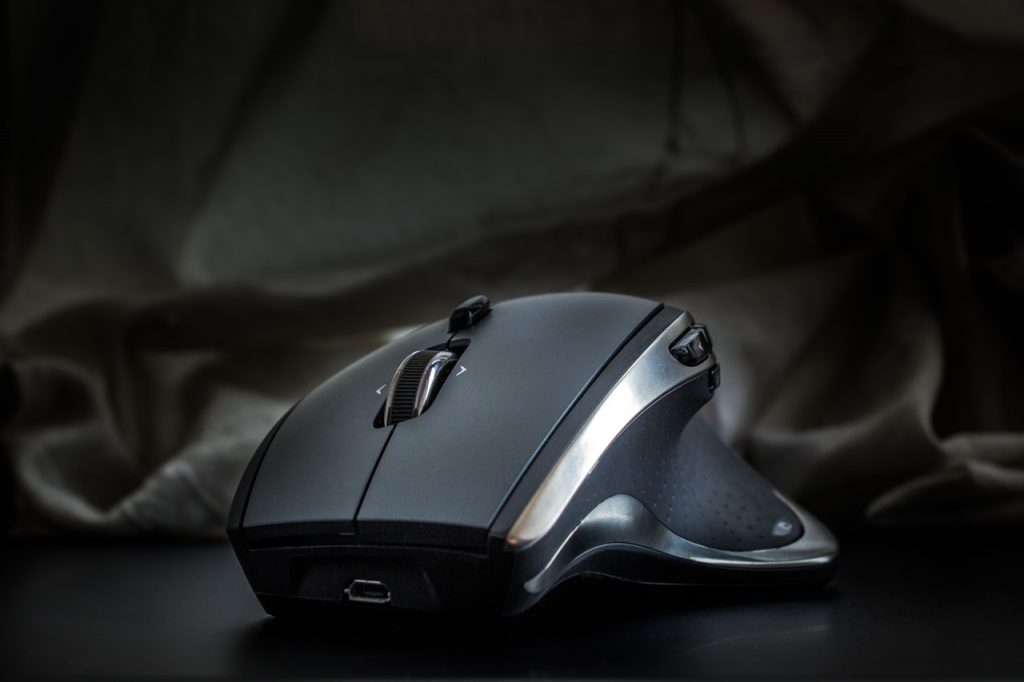 What Is a 3D Mouse Used For
Why do you need a special mouse? That's a fair question. They are designed with a particular kind of user in mind. A 3D mouse fulfills the requirements of professionals who need to be able to manipulate elements in a 3D environment. Those users usually are:
Engineers,
Designers,
CAD software enthusiasts or
3D professionals
Also, these types of users tend to favor a wireless mouse for 3D modeling, although many use wired ones. Typically, each professional has his own needs. That's why the best wireless mouse for 3D modeling is most likely highly programmable. That way, you can preset certain functions to a dedicated button, such as:
Having immediate access to those commands can save you lots of precious time. Most likely, if you're using a wireless mouse for 3D modeling, those are the buttons that you are utilizing more. Additional programmable buttons can also be handy, depending on how repetitive the work is. From there, it'll come down to your particular needs.
How to Choose a Wireless Mouse
Once you've concluded that you need the best wireless mouse for 3D modeling, you need to start making decisions. Brands will throw tons of technical terms at you and it's okay if you end up feeling a bit overwhelmed. That's the reason we made this guide, so you can have a friendly voice explaining to you what all of that means. These are the things that you should pay attention to:
Dots per inch (DPI)
It is likely that this will be the first term you come across when you're looking for a 3D modeling wireless mouse. This is also referred to as movement resolution. Simply put, it indicates the sensitivity of the mouse. A higher DPI means the mouse should be more responsive. It can grant you more precision and faster navigation through the screen. Many mice have the capability to change this sensitivity, like a car shifting gears.
Polling Rates
This refers to how frequently the mouse will send a signal to the computer to report its position. When you move it across the desk, the mouse sends in quick succession thousands of tiny bits of information to let the computer know that there's a movement taking place. This translates into the amount of delay you feel between the moment you make a gesture and the moment it shows on screen. It is measured in Hz, and the number indicates the number of times a new signal is sent per second.
Latency
It's a value that's a concern for people buying wireless equipment. This is the amount of time it takes for the signal to travel from the device to the receiver. A key factor that separates the best wireless mouse for 3D modeling from the rest is that you won't have to worry about it since it'll provide a latency solid enough to perform better than most wired ones.
Compatibility
As you may have guessed, this refers to the operating systems that are able to work with a particular piece of hardware. It's not uncommon for a mouse to only be compatible with Windows or Mac. However, the best wireless mouse for 3D modeling should be able to work with both systems. Sadly, Linux will have an even harder time finding a mouse that works properly with their setup.
Best Wireless Mouse for 3D Modeling Review
And, finally, we reach the point where we can talk about the best wireless mice in particular. Reviewing these, you'll understand what we saw in them that made us put them above every other mouse in the market. We'll explain the details, so you can decide for yourself which one is a better match for you.
3Dconnexion 3DX-700049
This is, hands down, the best equipment for 3D modeling you can get. If you were looking for something that completely changes the way you interact with 3D elements, this is it. 
Its patented 6DoF (6 degrees of freedom) sensor allows you to simultaneously pan, zoom and rotate your model, making navigation easier than ever. With 15 programmable keys, you'll find yourself using the mouse more frequently than the keyboard. The battery lasts 2 months on a single charge. However, it doesn't replace a regular mouse and it's not something everyone can afford.
Propoint Wireless Bluetooth Mouse and Presenter
Also a worthy candidate for the title of the best wireless mouse for 3D modeling. This particular mouse is the best choice for those who prefer an alternative grip style. 
Lightweight, ergonomic, and easy to use, this mouse is sure to make your life easier. With its pen-style grip, it comes out as the best mouse for designers. You have three programmable buttons that can be set to change functions when tilted. It has the perfect size for traveling and turns into a presenter, so it shines for its versatility. The battery lasts around 4 weeks.
Best Wired Mouse for 3D Modeling Review
Wireless mice aren't the most affordable ones, so, if you can't get the best wireless mouse for 3D modeling, we found some alternatives for you:
PICTEK Gaming Mouse Wired
It's technically a gaming mouse, but it's a great alternative for 3D modeling. It's precise, comfortable, and highly customizable.
This mouse provides easy access to 8 programmable buttons that can be set to pan, zoom, rotate, and any other function you may need. For those more accustomed to traditional mice, this could be a sweet middle point that offers most of the benefits with the added bonus of familiarity. It has a high DPI count and neat polling rates, so great performance is assured.
3Dconnexion 3DX-700028
A younger sibling to the SpaceMouse Pro. It comes with the best features included in the Pro version, which is the 6DoF sensor. 
Although it's wired, since it doesn't replace the conventional mouse, this doesn't hinder the experience of navigating 3D environments too much. It's still a great piece of equipment that should make your life a lot easier. Extra programmable keys are sorely missed, but it's a fair deal if you want to save a couple of bucks and still get something made for professional use.
3Dconnexion 3DX-700052
Another alternative from 3Dconnexion. This is their take on a regular mouse, oriented for 3D modeling professionals.
It comes with a high movement resolution and an ergonomic design that provides a great experience for users who need to work for extended periods of time. If you're not sure whether or not you require a dedicated mouse for 3D modeling, this could be the one for you. It doesn't stay too far away from conventional standards, but it's still clearly built for professionals.
Conclusion
It's important to invest in the best equipment if you're a professional. To be truly efficient, you need the best wireless mouse for 3D modeling or something very similar. To keep your mind focused on the work at hand, and not on "why isn't this thing in my hand working?", be smart and get yourself the best, which we hope to have helped you find.