In the last decade, we have seen a complete revolution in gaming laptops. There was a time when you had to spend over $3000 to get a decent gaming laptop. But in this day and era, you can easily own one in $1000 or even less in some cases. That said, Dell's sub-brand, Alienware, is unarguably one of the big names when it comes to manufacturing. gaming laptops. However, Alienware's laptops are a bit on the upper side of the market. An alternative to that is to buy Alienware's parent brand laptops. And today, we will be reviewing one such laptop, Dell Inspiron i7559-763blk. So, without any further ado, let's begin our Dell Inspiron i7559-763blk review: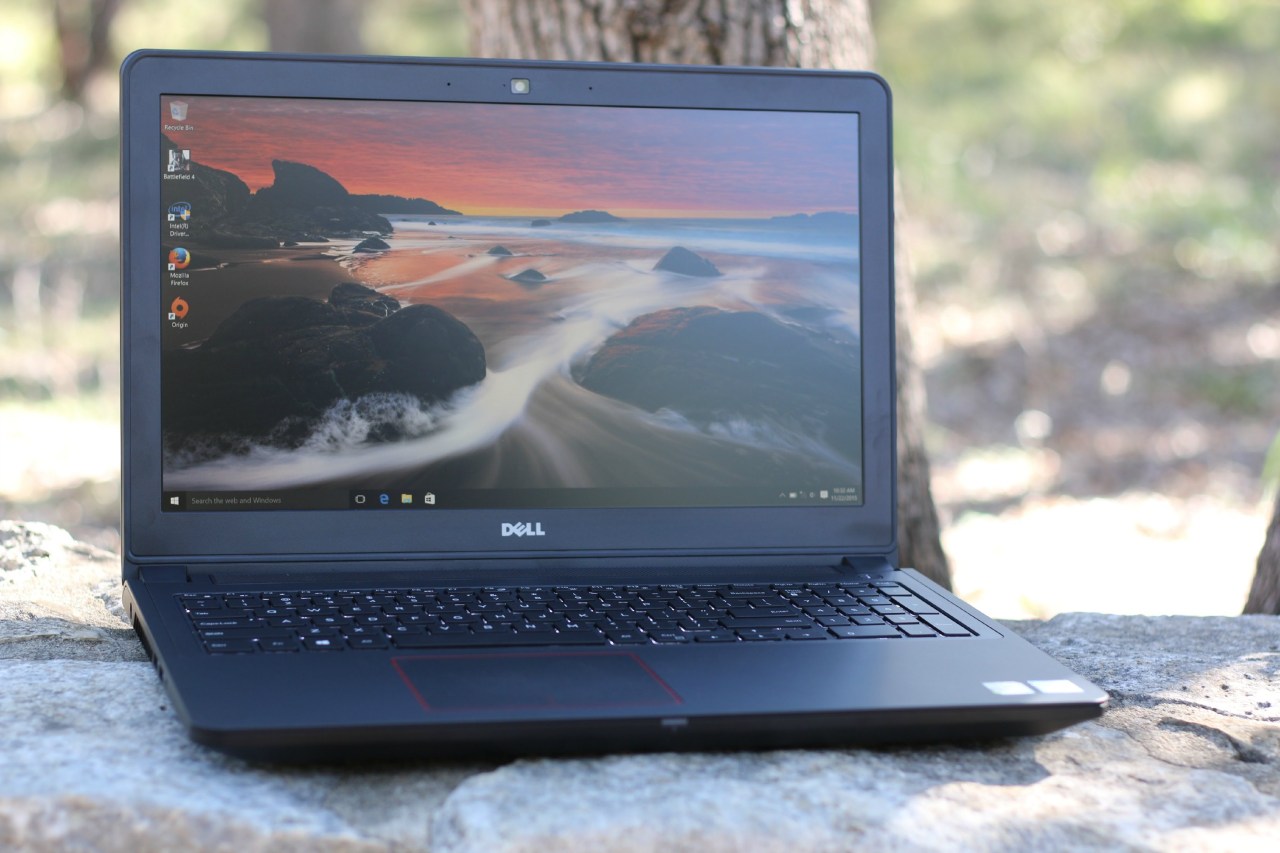 Factors to Consider Before Buying a Gaming Laptop
Avoid Touch Screen Laptops
If you are looking to buy a strong gaming laptop then you probably won't need a touch screen feature in your system. The reason being, touch screen laptops will cost you more than your average gaming laptop.
Furthermore, they will suck the battery out of your laptops. Moreover, gaming laptops on their own have low battery backup and combining it with a touch screen display will only make it worse.
The Right Balance Between Power and Comfort
When it comes to gaming laptops, you can find various screen size variants from 13 inches to 17 inches. If you purchase a laptop with a bigger display, it will give you more power but will be much heavier.
On the other hand, if you purchase a laptop with a 14 or 15-inch display size, it will have enough power to run all the mainstream games and be comfortable enough to carry around. Make sure you pick the right laptop and don't go overboard with the display size if your requirement is of a comfortable laptop.
Avoid Low-Resolution Display
Having a good quality display will only make sure gaming sessions are top-notch. But picking a good resolution is not an easy task. As there is a wide range of options to pick from. To make the most out of your playing experience, never go with anything less than 1920×1080. If your favorite laptop doesn't support this resolution, you need to make sure to buy a laptop with a superior GPU such as the Nvidia 1650 series.
Importance of SSD
Recently, more and more brands are trying to upgrade from the traditional HDD to SSD on their laptops. A Solid State Drive (SSD) is not only faster than a traditional HDD but also more durable. The reason being, SSD uses flash storage to store content that doesn't require any moving parts. On the contrary, HDD uses moving parts and magnetic platters which ultimately reduces the life and efficiency of the HDD. Read: ASUS ROG GL551JW-WH71(WX) Review
Graphics
This point is quite evident, if you are looking to buy an excellent gaming laptop then graphics are probably your biggest concern. So, these were some of the factors that you should keep in mind before buying a gaming laptop. Now, let's move forward with our Dell Inspiron i7559-763blk review and discuss the performance, display, and more.
Dell Inspiron i7559-763blk Review
Design and Display
Kicking things off with this laptop's display, it flaunts a 15.6-inch Full HD IPS LCD screen which is also equipped with wide-angle and anti-glare features. Adding to that is the 1920 x 1080 Full HD resolution with top-level sharpness. You won't be disappointed in this section by this laptop as it can easily handle high-resolution movies and games without breaking a sweat.
Talking about the design of the laptop, it is certainly not a thin laptop but you can make amends with that. However, the top-grade plastic body gives it unparalleled durability and sturdiness. The laptop is slightly on the heavier side of the weight spectrum at 5.7 pounds.
Performance and GPU
The Dell Inspiron i7559-763blk is an entry-level gaming device under the hood, you will get an Intel i5-6300HQ 2.3 GHz Quad-Core processor coupled with a 4GB DDR5 Nvidia GTX 960M chipset. Along with that, it has an 8GB DDR3L RAM and a 256GB SSD for internal storage.
The Nvidia GTX 960M is not the top of line chipset but it will get the job done. It can easily run most of the games in excellent graphic settings. But for games that require top-of-the-shelf graphic settings, you need to tone them down a bit to ensure a good gaming experience.
Additional Features
This laptop runs on Windows 10 Home which is great for the $800-$850 price segment. You will get a 74 WHr lithium battery out of the box which easily gives around 4-4.5 hours of battery life. Coming to the ports of this device, you can find three USB 3.0 ports, a standard HDMI port, 3.5mm headphone jack, and a media card reader.
What's more? You will get stereo speaks with subwoofers for great audio quality. Furthermore, the backlit keyboard comes with a numeric pad which is missing in most of the laptops nowadays. Lastly, there is no DVD optical drive which is a bummer at this price tag.
Frequently Asked Questions
Are Dell Inspiron Laptops Good?
Yes, the Dell Inspiron series features some of the best laptops in all the segments. So far in our Dell Inspiron i7559-763blk review, we are happy to say that this entry-level gaming laptop is arguably a good choice at this price tag. Related: Acer Aspire E5-575G-53VG Review
Is Dell or HP better?
Dell and Hp have been going at each other for a long time and have manufactured some top quality laptops over time. However, as of now, Dell has a slight advantage over HP laptops.
How long do Dell Inspiron laptops last?
In any gaming laptop review, the durability of a laptop is one of the biggest fears of the customers. However, you don't need to worry about Dell laptops. Generally, Dell Inspiron laptops can easily last for 5 years. If you take good care of your system, it can easily last more than that. Since Dell has never compromised the quality and durability of its laptops.
Final Verdict – Is Dell Inspiron i7559-763blk Worth Buying?
Yes, the Dell Inspiron i7559-763blk is definitely worth your money. If you are looking for an amazing entry-level gaming laptop for the next 5 years or so then you can definitely go for it. So, that wraps up our Dell Inspiron i7559-763blk review, make sure to research thoroughly before buying any laptop. As buying a gaming laptop is not a short term investment.