Being healthy should be a priority for everyone. However, let's be honest, not everyone keeps that healthy habit in the first plan. If you maintain a healthier lifestyle, not only you will look better you will also feel a lot better. Thanks to the vast improvement of technology, there are literally tons of free health apps that could make your life a lot easier. Instead of chasing the perfect diet or workout plan or planning your workout routine yourself, you can let these apps do that for you. In this article, we are going to talk about both Android and iOS health apps. Moreover, we are about to share with you a list of the top health apps according to many reviews and tests. That being said, let's take a look at the Android health apps first.
Free Health Apps for Android & iOS:
As the title of this article says, we are only going to talk about free health apps. That means you won't pay a dime for these apps. However, they may contain some ads since they are entirely free.
This app is considered to be one of the most popular health apps because of many reasons. It's a great app that can scan and grade your food using the barcode scanner. Using this app can help you learn the basics of living a healthier life. In addition, Fooducate comes with a calorie tracker, different exercises, and much more. As we said earlier, this app is entirely free, but there are some features that are completely optional and not necessary that can be purchased.
With more than 50 million downloads worldwide, MyFitnessPal is surely considered to be one of the top free health apps. This app contains some of the most crucial features that are related to health. For instance, it comes with a food insights option that helps you learn how to make healthier choices. In addition, it comes with a huge food database. The best part of this app is the calorie counter. The calorie counter automatically calculates the calories in your foods using the barcode scanner. This is another free health app, but it comes with some ads.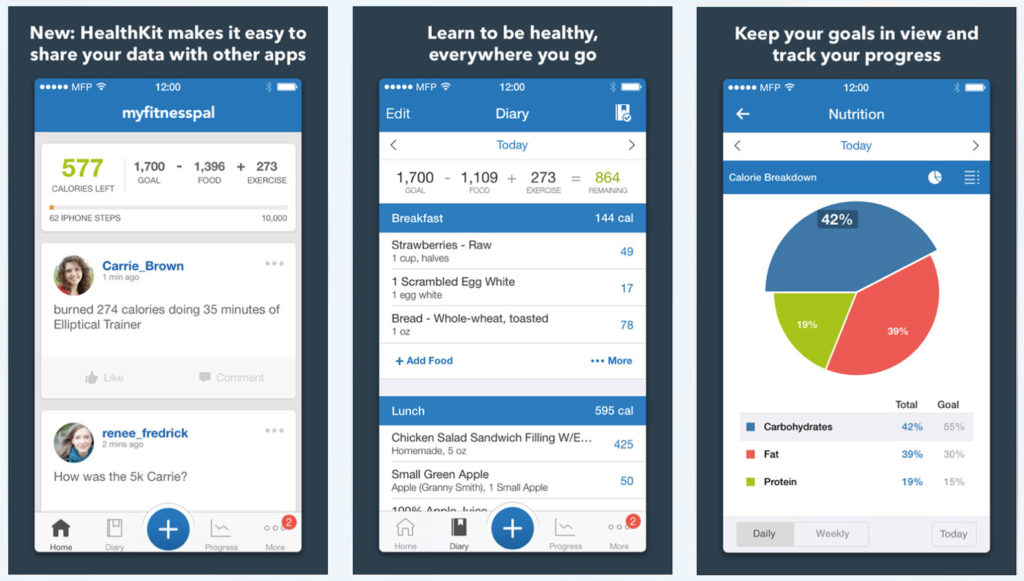 You can probably guess it. HeadSpace is a meditation app. Who says that mental health isn't important? HeadSpace features many different sessions on stress, anxiety, personal growth, and physical health. It's one of the free health apps that are considered to be one of the best because of the many satisfied users. The app helps you stay calm, breathe better and focus. In addition, there are many sessions in this app that can help you sleep better. If you have a problem with your sleeping, give this app a chance. The best news is that this app is not only entirely free but it's completely ad-free. Do you love meditation? Check these meditation apps.
Live a more active and healthier life with Fitbit. That's the motto of this app. Fitbit features many workouts, all-day activities, food tracker and much more. In addition, the app also features a monitor heart rate, an option to record your workouts and barcode scanner to keep a track of what you consume. Moreover, this app is also very helpful in the sleeping area. You can keep a track of your sleep with the sleep tracker and see how much time you were peacefully sleeping or spent awake. This great app is free, but there are certain features that must be purchased.
Nike Training Club can help you reach your fitness goals faster and easier. It's one of the free health apps that are considered to be the best because of many reasons. This app carries a lot of features. It comes with different workout levels so if someone is a beginner he/she can adapt very quickly. Nike Training Club features workout times ranging from 15 to 40 minutes, low and high-intensity exercises, and body-part focused exercises targeting your legs, arms, and abs. In addition, with this app, you also get guidance in order to reach your fitness goals faster.
Fitocracy is one of the top health apps that make workout fun. You can be always motivated with this app by joining the community the app offers. There are people in the community around the world with the same goal, live a healthier life. Moreover, with the app, you can easily keep track of your workout sessions. Fitocracy will keep you motivated by earning points, beat quests, and unlock many different achievements as you level up in real life. That's why we said this app makes workout fun. It's a completely free app that comes with some in-app purchases which are completely optional.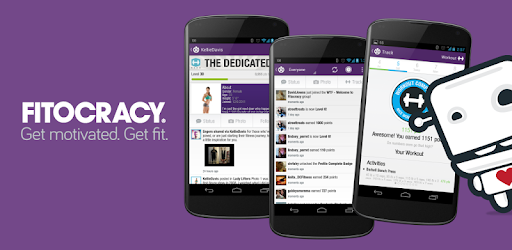 Well, there you have it. We shared with you an amazing list of top health apps that will help you achieve your fitness goals faster and easier. If you are just simply looking forward to a healthier lifestyle, these apps will make that task a lot easier for sure. Please drop a comment below or contact us if you think some other apps should be on this list as well.