In this era of connectivity, wireless connections became a necessity. However, choosing the right wireless router to set up your network is hard sometimes. For your connections to fulfill their potential to its fullest capacity, you need something powerful. And we happen to know a great router that fits the bill. For that reason, today we're making an honest TP-Link Archer AC2300 review.
After thoughtfully evaluating this router, you will know all there is to know about it. Besides, we'll throw in some pieces of relevant information to properly measure its quality. Every advantage and disadvantage will be adequately explained to keep you from making an uneducated purchase. Stick around with us, and let's see whether TP-Link's Archer AC2300 router is worthy of our attention or not.
What Makes a Router Great?
There are several key features to keep in mind when shopping for a router. Namely:
IEEE 802.11 protocol
When you're buying a router to set up your network, the IEEE LAN standards are the most important thing to consider. These belong to the wider set of IEEE's 802 protocols. Older protocols are rather limited in terms of total usable bandwidth, among other functionalities. Versions are commonly referenced by the letters after the number of the protocol (802.11b, 802.11g, 802.11ac…)
Buying a router with an older protocol could be detrimental to your connection. If you want to set up a 1Gbps connection, you need a router with AC protocol and appropriate bandwidth.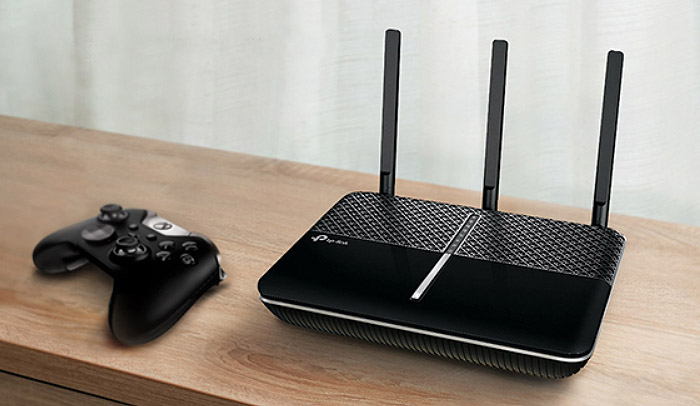 Connection bandwidth
Of course, your router's connection bandwidth is of the utmost importance when you're setting up a network. Finding a router that supports your modem's data output is crucial to avoid hindering your connection. One of the reasons we decided to write a TP-Link Archer AC2300 review was its great bandwidth.
Your online experience depends on a chain of connections: from your ISP to your modem, then router and finally your device. The slowest link in the chain will determine your connection speed. For that reason, buying a fast router is a priority for fast connections.
The router's CPU
A great router does much more than just allowing you to set up a wireless network. A huge variety of features are available for more tech-enthusiastic users. However, to keep up with the required processing power needed to accomplish such tasks, a good CPU is necessary. Because of that, some routers now have amazing computing capabilities.
Usually, more processing power also implies a wider set of features that rely on the CPU. Nonetheless, it's also possible to find routers with more processing power than necessary. Those tend to be more expensive than they should, too.
TP-Link Archer AC2300 Review
All that technical ramble means nothing if it doesn't translate into better performance. Once we finally got down to write our TP-Link Archer AC2300 review, this is what we found:
First look at the TP-Link Archer
Right out of the box, this router looks formidable. It has a perfect size, with three prominent antennas in the back. Also on the back, you can find four gigabit Ethernet ports, besides the LAN input for the modem.
The design is sober and discrete, almost all black with different textures, and dim LED lights when turned on.
In the box comes included a set of instructions to set up your network, and everything needed to do so. If you have a modem, all you have to do is plug in your new router. Once it has been connected, you only need to set your network details, like the name, security, and such.
TP-Link Archer advantages
As mentioned above, buying a router up to date with IEEE standards presents a lot of benefits. In this case, the upgrade allowed for the inclusion of features like a dedicated VPN, gigabit connections, and other improvements. This TP-Link router took full advantage of the possibilities presented by the new 802 protocols. And it managed to do so at a comfortable price range.
Another thing that caught our attention was the dual-core CPU. It's rather uncommon to find a router with such high processing power. It's appreciated, though, given the fact that all of the work done by the processor shows off in its performance.
Once we finally set up our network, the most important part of the evaluation began. Testing this router ended up being a surprisingly pleasant activity. We were actively trying to overwhelm the device to determine its limitations, but it proved to be more difficult than envisioned. Even when with four devices connected at the same time, the router kept delivering its promised speeds.
Testing the other features went similarly. From the prioritization of selected devices to the easy-to-use mobile app, everything worked flawlessly and without a hiccup. But the best part was combining two Ethernet outputs to achieve a 2Gbps connection. Connected into the computer, it was the fastest connection we've ever had.
Frequently Asked Questions
How do I access my TP-Link Router?
To access the web-based utility that allows changing your network parameters, simply type 192.162.1.1 or 192.168.0.1 into your browser. Another way to do this with compatible devices is by downloading TP-Link's network management app on your smartphone.
What is a TP-Link device?
TP-Link is the name of one of the most prominent brands in routers and modems. When referring to a TP-Link device, the mentioned item likely is either a router or modem. It could be for residential or commercialñ use, depending on the context.
Is TP-Link reliable?
TP-Link is a trusted manufacturer of modems and routers. They have a long history producing both high-end and affordable connectivity solutions. Their equipment is thoroughly tested to meet very strict quality standards.
How do I reset my TP-Link Router?
On the back of every TP-Link router, there's a small hole with a reset button on the inside. To reset the router, press the button with a needle. To reset to factory settings, hold the button pressed for 30 seconds.
Conclusion
The Archer AC2300 is a modem we would definitely recommend. Whether it's for a medium-sized network or a smaller setting, its performance is unmatched. Besides being fairly priced as well. Overall, doing the TP-Link Archer AC2300 review was full of pleasant surprises.
If you're looking for a TP Link Wi-Fi router, this is your best choice. It's a significant improvement over their previous Wi-Fi routers. After a taste of that great connection speeds, we would find it disappointing to switch back to a different router. If you made it this far, congratulations! You're now one step closer to setting up your own gigabit connection network.